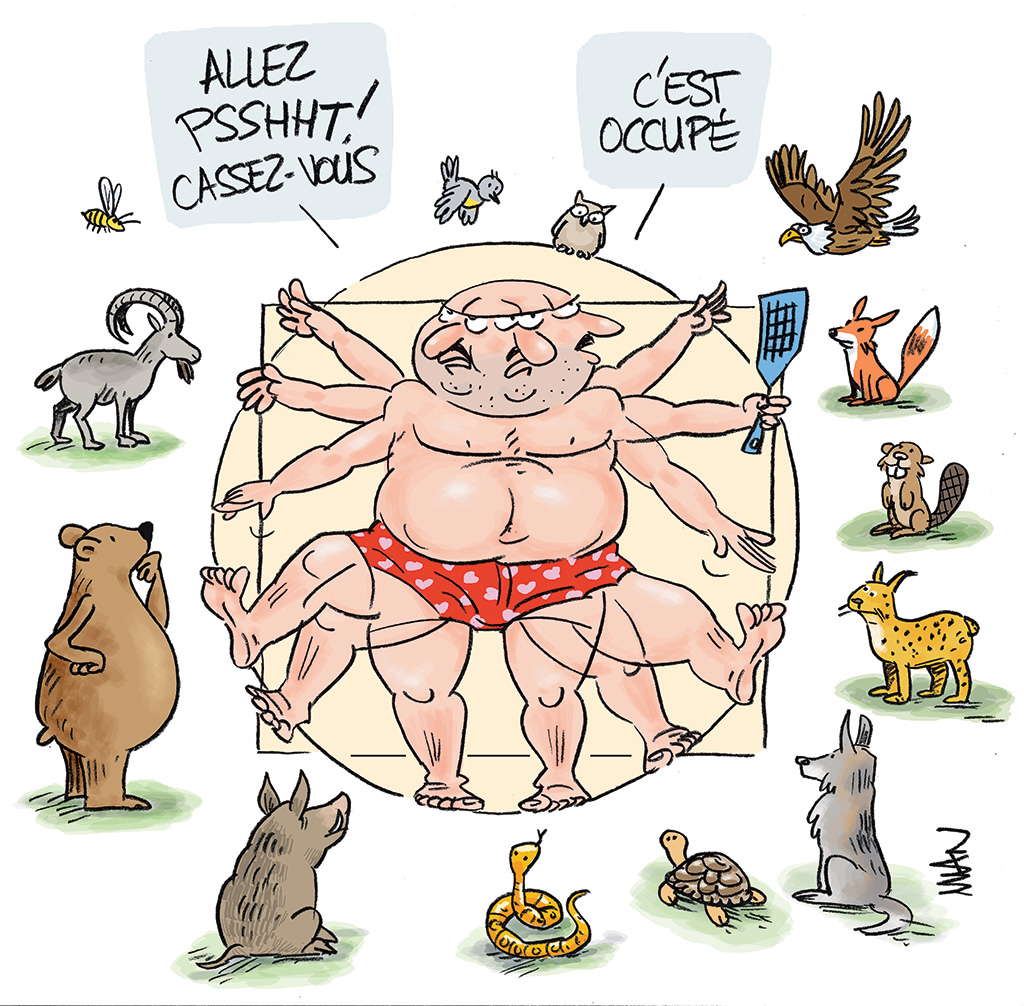 Bears, wolves, foxes, lynx, ibex, wild boars, not to mention birds, insects and amphibians … All of these animals' habitats have been disrupted by human activities, from agriculture to urbanization and recreation. In France, as elsewhere, wildlife no longer has a "place" to be. Protected or reintroduced to compensate for the collapse of biodiversity, they continue to face environments already occupied, where their presence creates new neighbor conflicts. As close as possible to humans, livestock or crops, they are accused of many injuries, attacks and disease transmission. What fate awaits these economic, political and / or health troublemakers? Very often scary or slaughter. An observation that for some should lead to thinking of new cohabitation methods, while others are in favor of coexistence or even a radical alienation, a distancing of these animals within exclusively dedicated territories.
So, between human presence and wildlife, is there a good distance, neither too close nor too far? A new frontier that BorderLine proposes to explore, a meeting hosted by Mission Agrobiosciences-INRAE ​​and Quai des Savoirs, which will mix analyzes of actors and debate with the public.
Keyword : territories, wildlife, biodiversity, conflicts, zoonosis, slaughter, rewilding.
A podcast recorded publicly in the Agora du Quai des Savoirs (Toulouse), July 7, 2021, from 18:00 to 20:00.
PROGRAM (in progress):
Between the wild and "us" … what has changed.


With Sergio DALLA BERNARDINAethnologist, University of Western Brittany: between fear and fascination, a look at wildlife.
Between the wild and "us" … which middle ground?


Debate sequence with Joelle ZASKphilosopher and especially author of Zoobyer (Premier Parallel, 2020) and Facing a wild animal (First Parallel, 2021); Farid BENHAMMOU (to be confirmed), geographer, Ruralités Laboratory (Univ. Poitiers) and Francois Moutou (to be confirmed), veterinarian and epidemiologist, former Deputy Director of ANSES Animal Health Laboratory.
Borderline: The boundaries of debate in science and life sciences

After piloting the European controversies for more than twenty years, in Marciac and then in Bergerac, the Agrobiosciences-Inrae Mission embarks on a new cycle of multi-year exchanges, as close as possible to the various target groups concerned, in co-production with the Quai des Savoirs. His common thread? Explore the fields of tension that are being exercised today around the idea of ​​boundaries, whether they are geographical boundaries, boundaries of knowledge, ethical thresholds, or limited resources. Spaces that are often vague, that some want to obliterate, while others want them to be inviolable. Standing on the edge of this suffering and grasping the borderline states that cross the fields of science and life, this is what BorderLine offers from September 2021. Debates that are available for free to all audiences and leave much to the exchanges and the gazes crossed , to jointly instruct the points of friction and the possible paths, without prejudice or avoidance. It gives rise at the end of each session to the production of a podcast that is available on all listening platforms.


The Quay of Knowledge. A natural ally, as this cultural center of the Toulouse metropolis, dedicated to science, innovation and creation, invites us to regain control of our future by exploring the challenges of modern research and the various future narratives that are underway. In-depth exhibitions, practical workshops for young and old, shows, public meetings, digital publications, artist residencies … Quai des Savoirs implements a wide range of interactions between citizens, researchers, creators and decision makers. By collaborating with the Agrobiosciences-INRAE ​​mission to question the boundaries of debate in science and life sciences, it helps to share knowledge, lead public debate, and envision desirable futures.