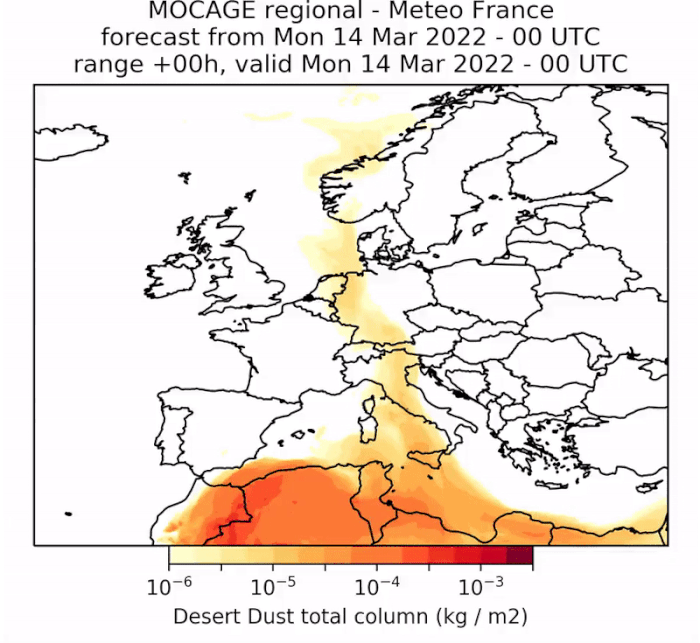 Concentration of sand dust in Europe from Monday 14 March to Wednesday 16 March 2022 – via Meteo France
Europe:
Weather contrast in the last two weeks on the continent. Eastern Europe is affected by one especially cold atmosphere due to a polar air mass that is continuously flowing over from Russia.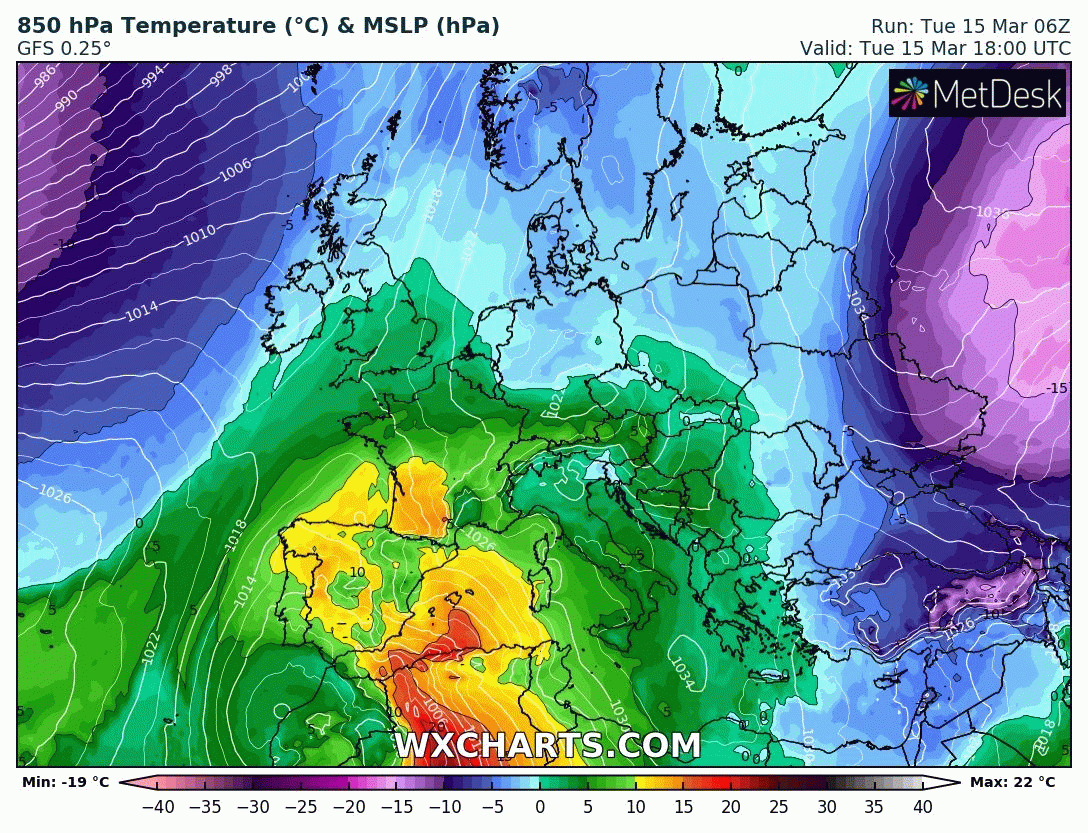 Animation of temperatures at 850 hPa across Europe from 16 to 19 March 2022 – GFS model via WX CHARTS
This cold has already been shown lively during the last week on the Ukrainian side with minimum sometimes lower than -10 / -15 °C in the north of the country, a cold that still should increase in the coming days.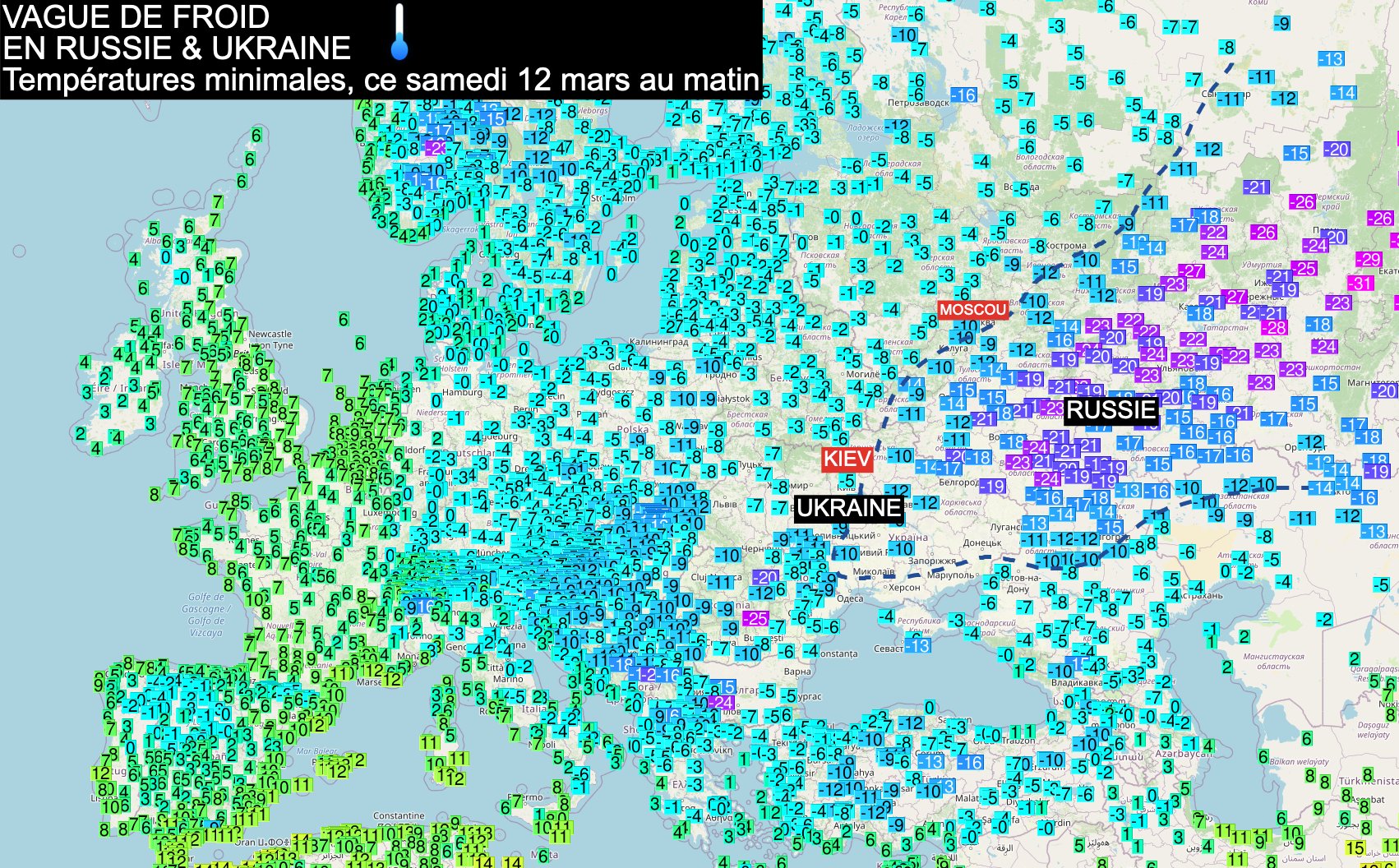 Minimum temperatures recorded in Europe on March 12, 2022 –Ogimet
This cold wave also spread to the southeastern part of the continent with severe frost observed as far as to Cyprus March 14. We were actually able to raise -11.1 ° C at Mount Trodos (1725m) or even -7.6 ° C at Prodromos (1360m), from new monthly records for the sector.
Further east, the cold air circulating over the Black Sea caused new snowfall as far as Istanbul between 11 and 13 March, a sometimes noticeable layer of soil deposits on the heights of the city.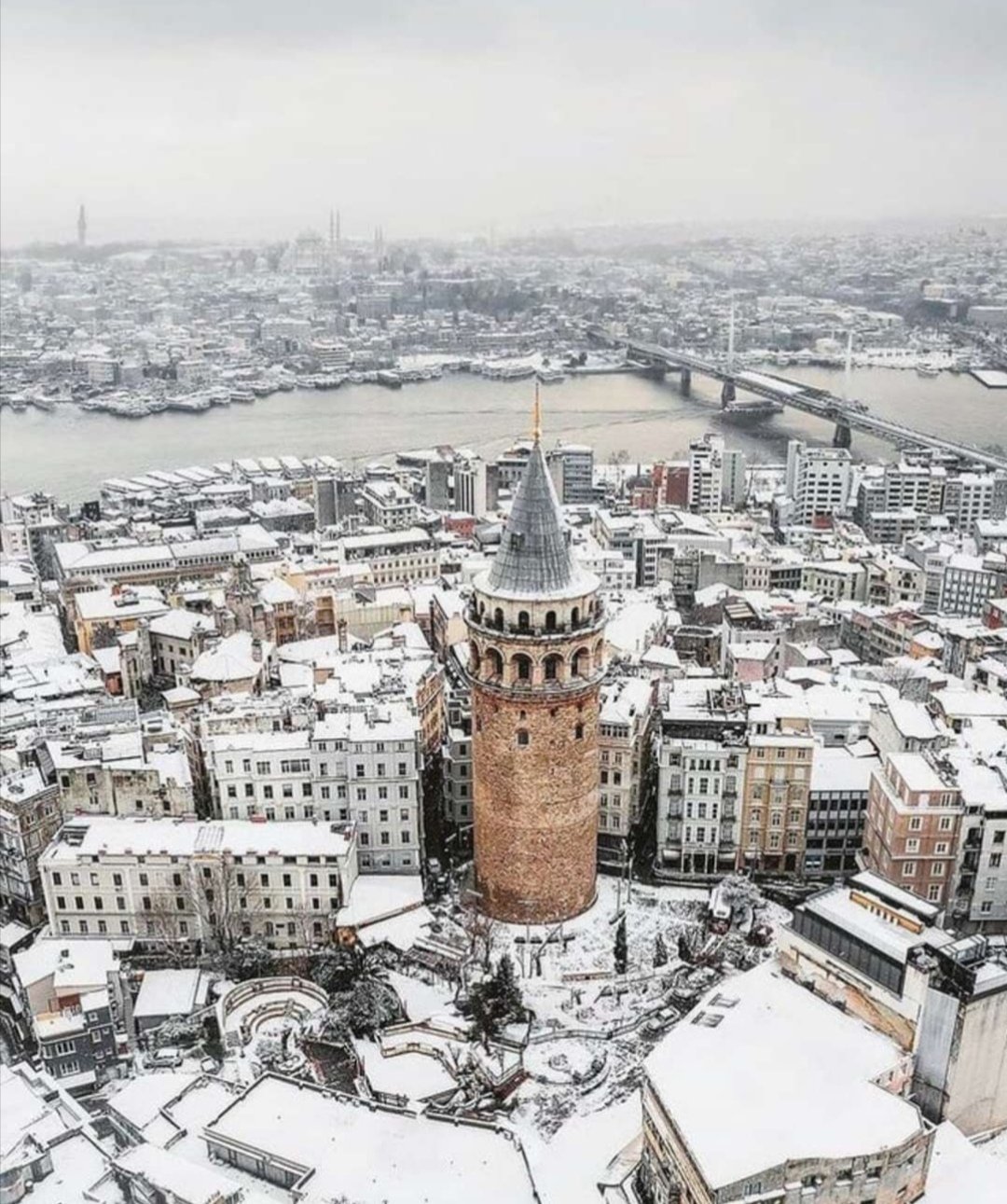 Snowfall in Istanbul on March 11, 2022 – Via Twitter: @dunyayiikesfet
The snowfalls were also important on the reliefs in southern Italy and the Balkans several ten centimeters from low height in many sectors, something unusual in the month of March.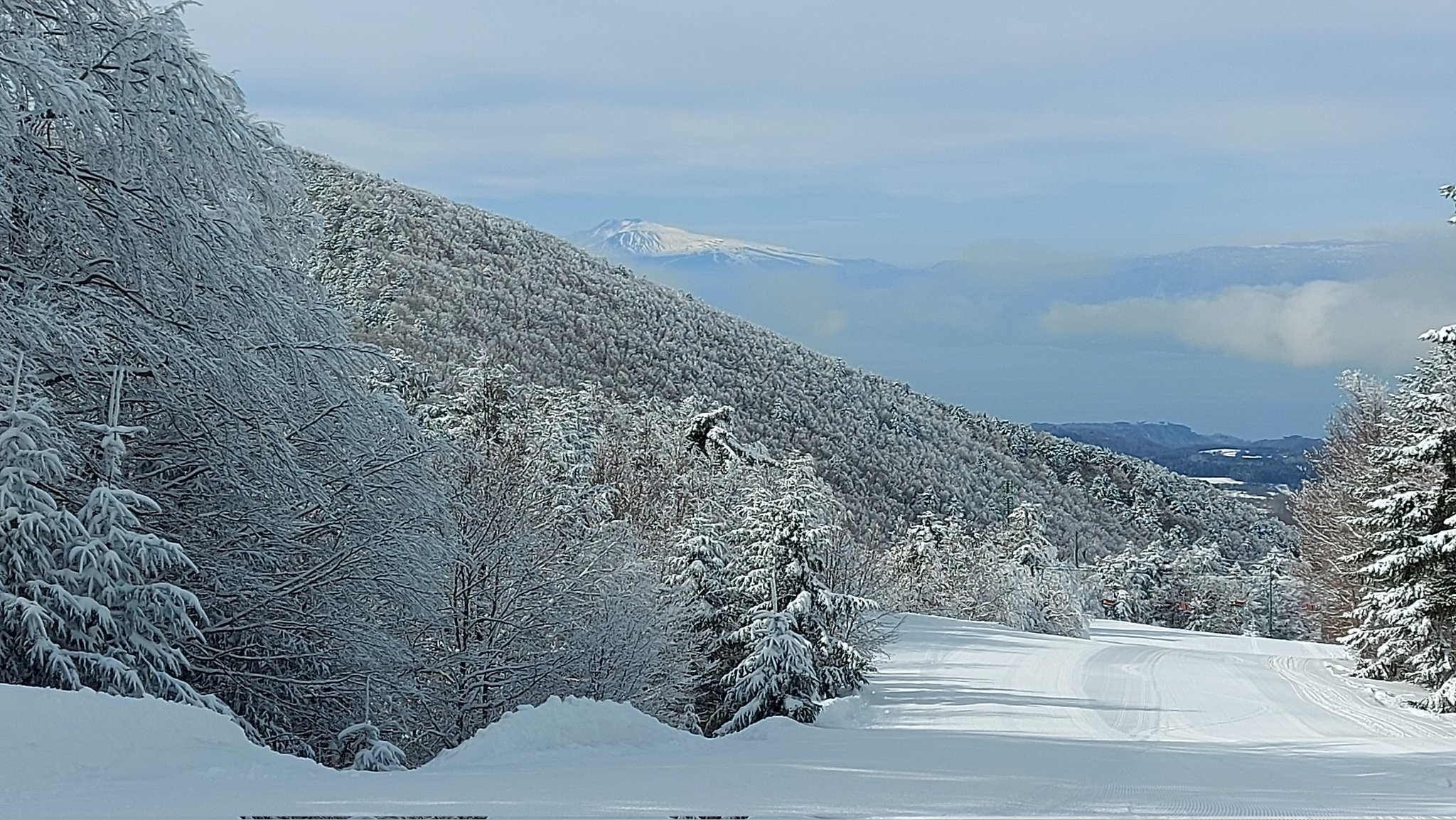 The snow-covered slopes of Mount Etna on March 10, 2022 – Through Twitter @ MIF_76
Further west it is one strong current from the south which has developed between North Africa and Western Europe in recent days on the edge of a low-pressure area crashing from the Atlantic towards Morocco. This southern flow is generated the rise of very large amounts of sand dust from the Saharaespecially between Spain, Portugal and France.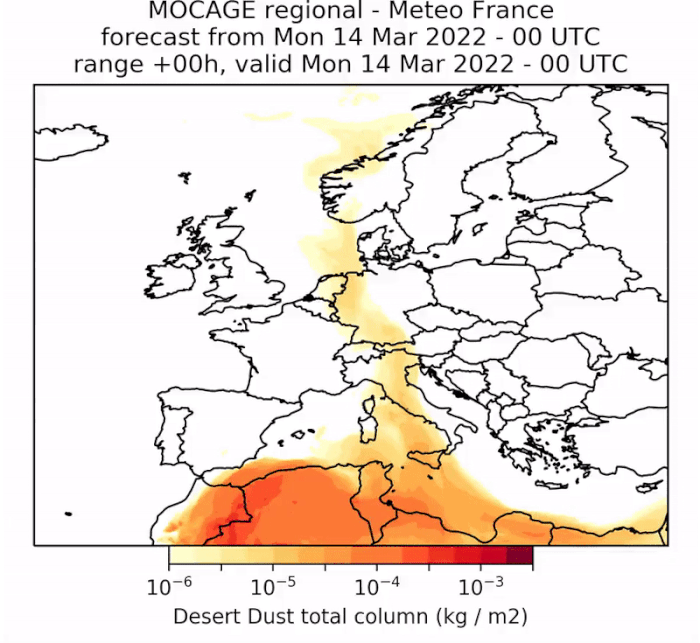 Concentration of sand dust in Europe from Monday 14 March to Wednesday 16 March 2022 – via Meteo France
If this event generally takes place several times a year, this is particularly marked in mid-March with one orange sky very impressively observable on March 14 in southern Spain.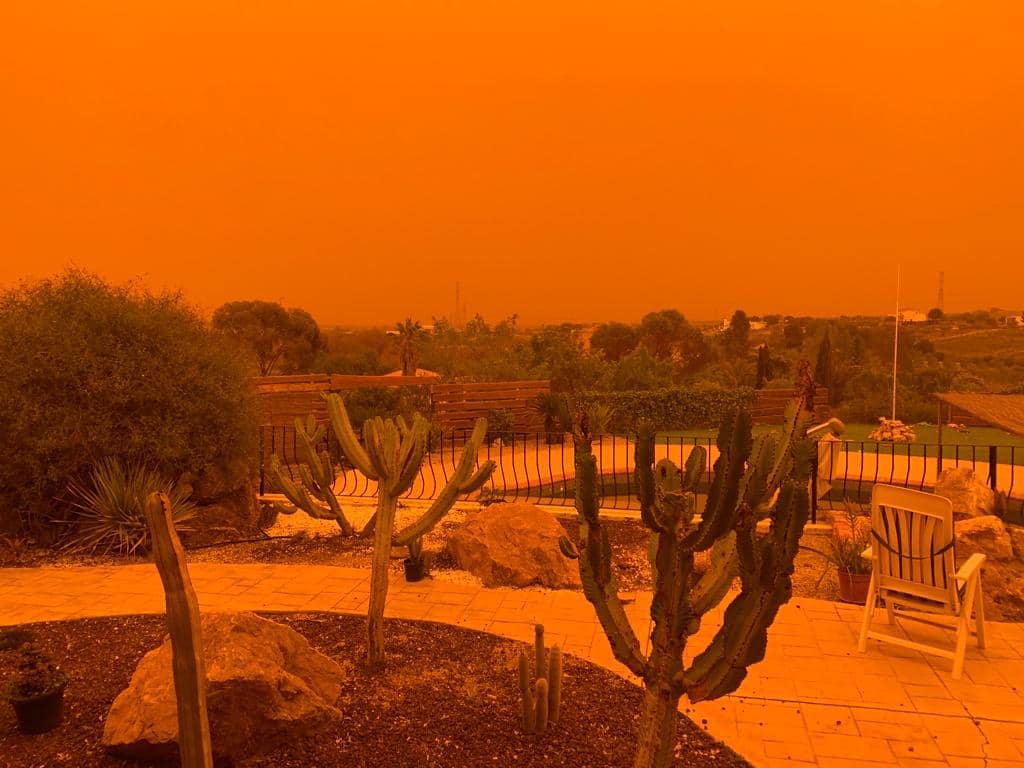 The sky filled with sand from the Sahara on March 14, 2022 in Mojacar in southern Spain – Photo: Barry Lester
These large amounts of sand in the atmosphere were also clearly visible on the satellite image of Europe on 15 March and should still continue for the next few days.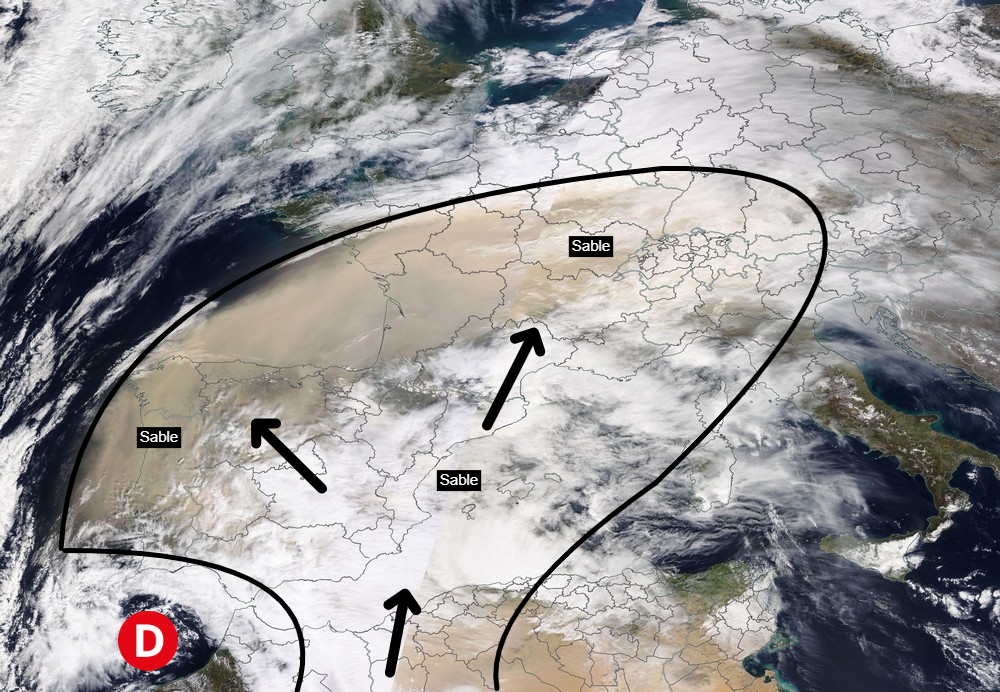 Satellite image showing the many sands in the Sahara in the skies of Europe on March 15, 2022 -NASA
America:
Spring is just around the corner throughout North America the last significant snowfall was observed in early March in Quebec and the Montreal region.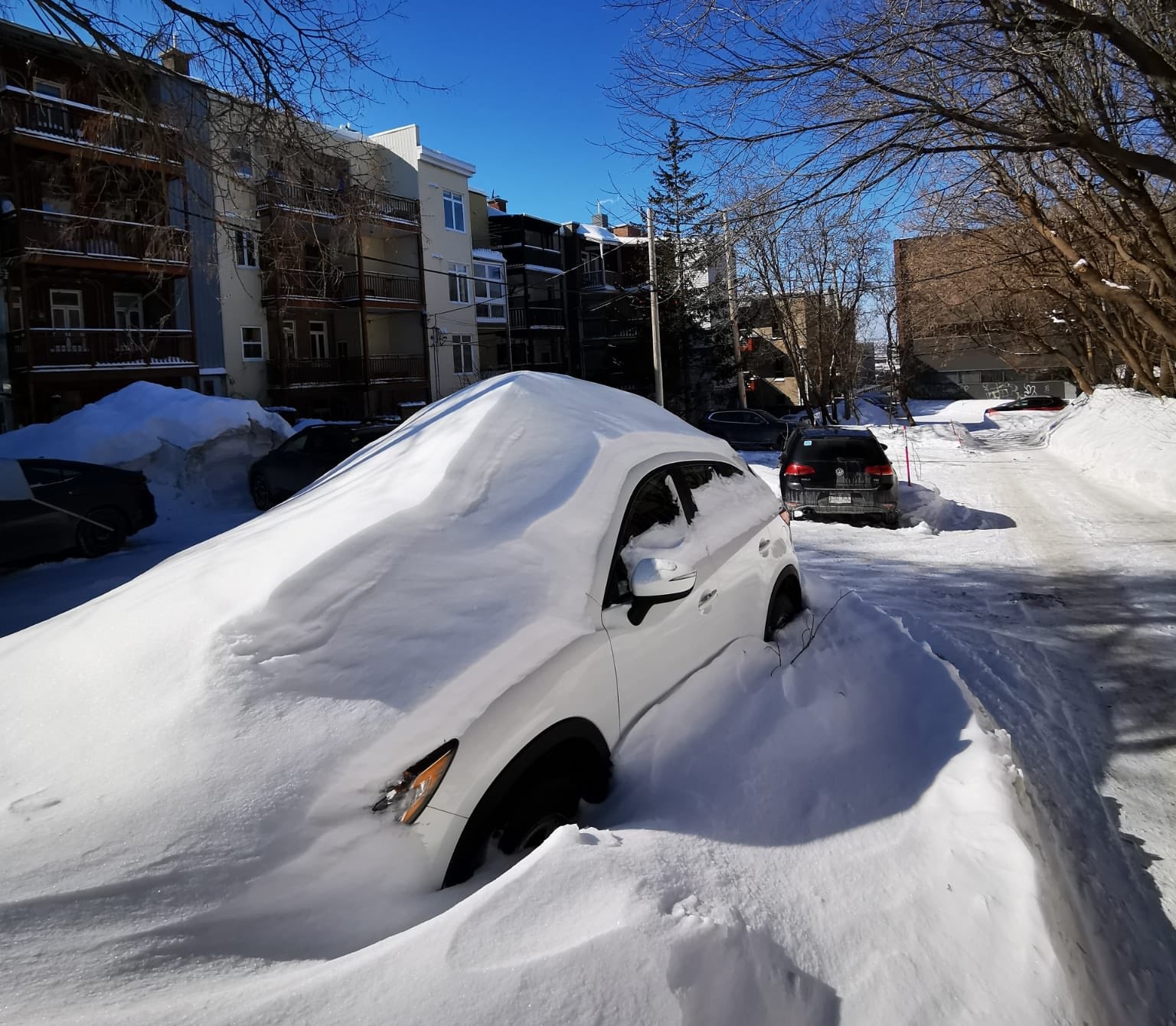 The sun returns after several days of snowfall in Montreal on March 4th – Photo for Meteo-Cities
Further south, the conflicts between polar air that still exists further north and milder air coming up from the Gulf of Mexico have created several strong stormy eruptions over the United States. In Iowa, several tornadoes were observed during the day on March 5th. One of them reached the category EF-4 at Wintersetcausing extensive damage to the area.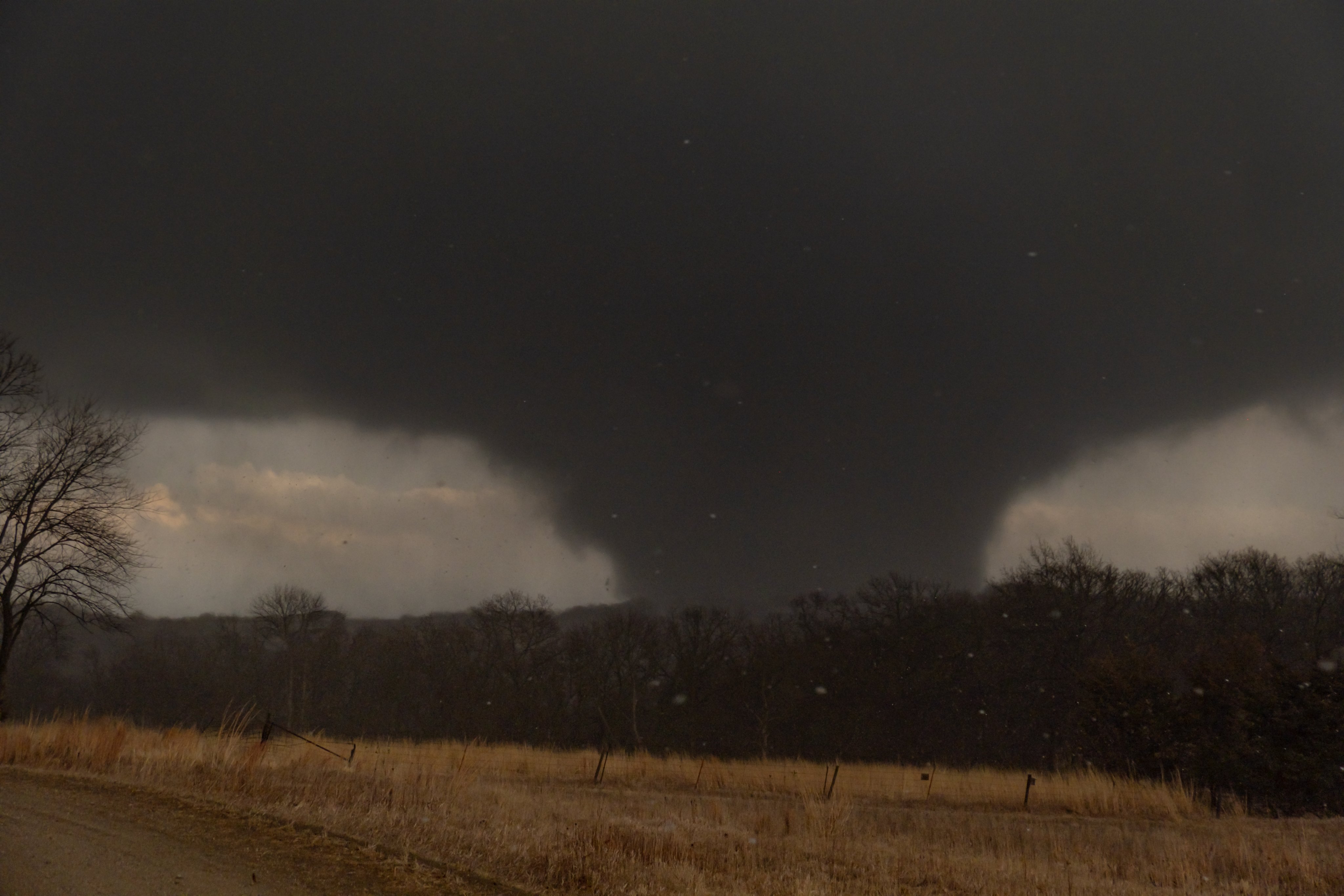 Towering EC-4 tornado near Winterset, Iowa on March 5, 2022 – Via Twitter: @aaronjayjack
This tornado also caused Death of 6 persons, including two childrendo deadliest tornado in this state since 2008.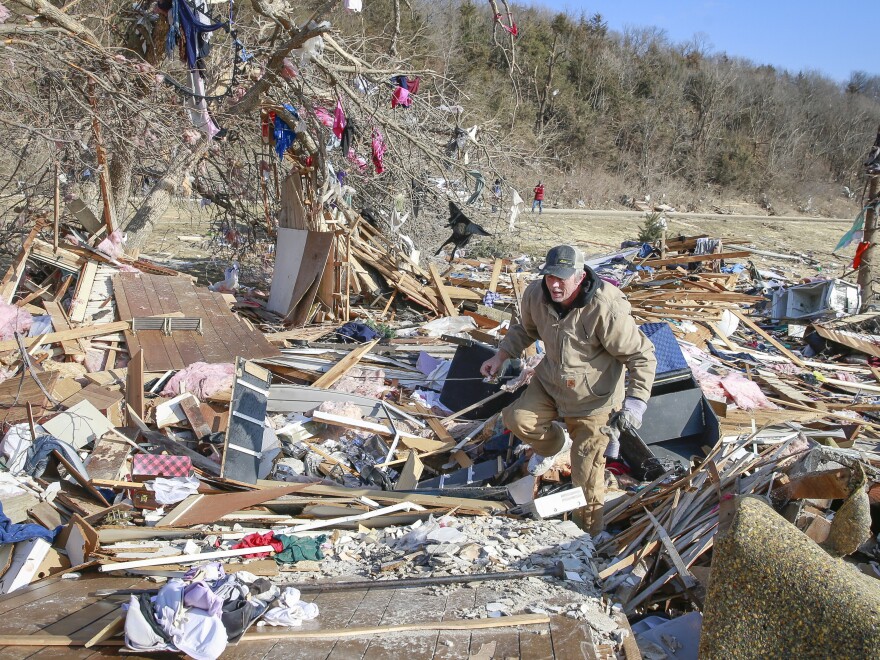 House demolished in Winterset after the tornado passed on March 5, 2022 – Via WUNC
In the western United States, on the contrary drought which rises again and again. Some sectors have experienced the driest January-February period since registrations began (127 years of measurements), especially between the California and Nevada.
Precipitation in the period January-February 2022 over the western United States – PRISM
In the southern part of the continent, the heat was particularly marked at the end of February, especially between Brazil and Argentina many monthly records broken. On February 27, we had been able to travel up to 43.5 ° C and Resistencia in Argentina, 42.8 ° C in Formosa or Corrientes or even 42.1 ° C in Monte Caseros (absolute record all months combined).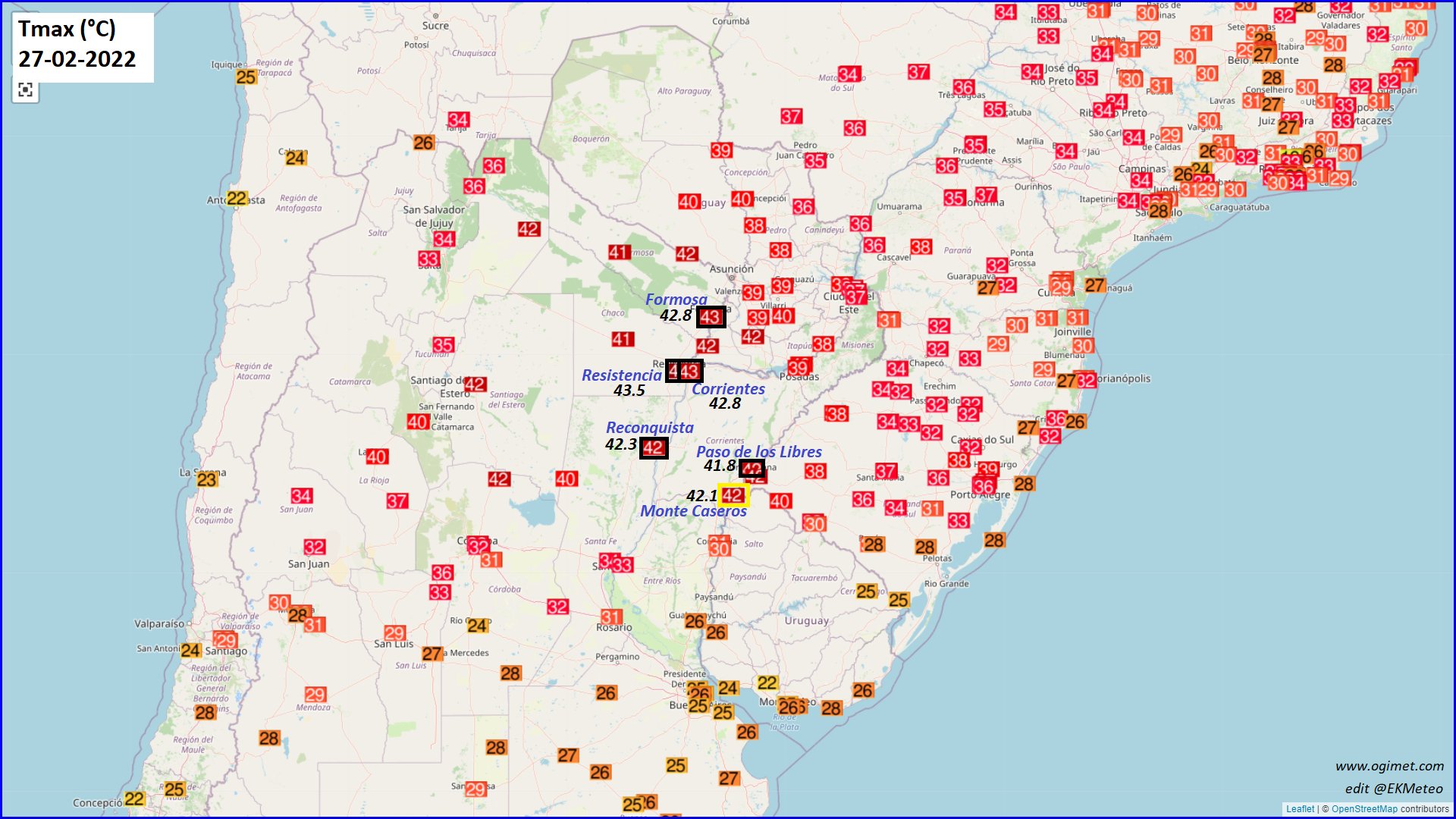 Maximum temperatures recorded February 27, 2022 – Via Ogimet and Twitter @Ekmeteo
On the Chilean side, massive forest fires hit the Valparaiso region in early March, forcing thousands of people threatened by the flames to evacuate. Hundreds of acres went up in smoke in the area in less than a week.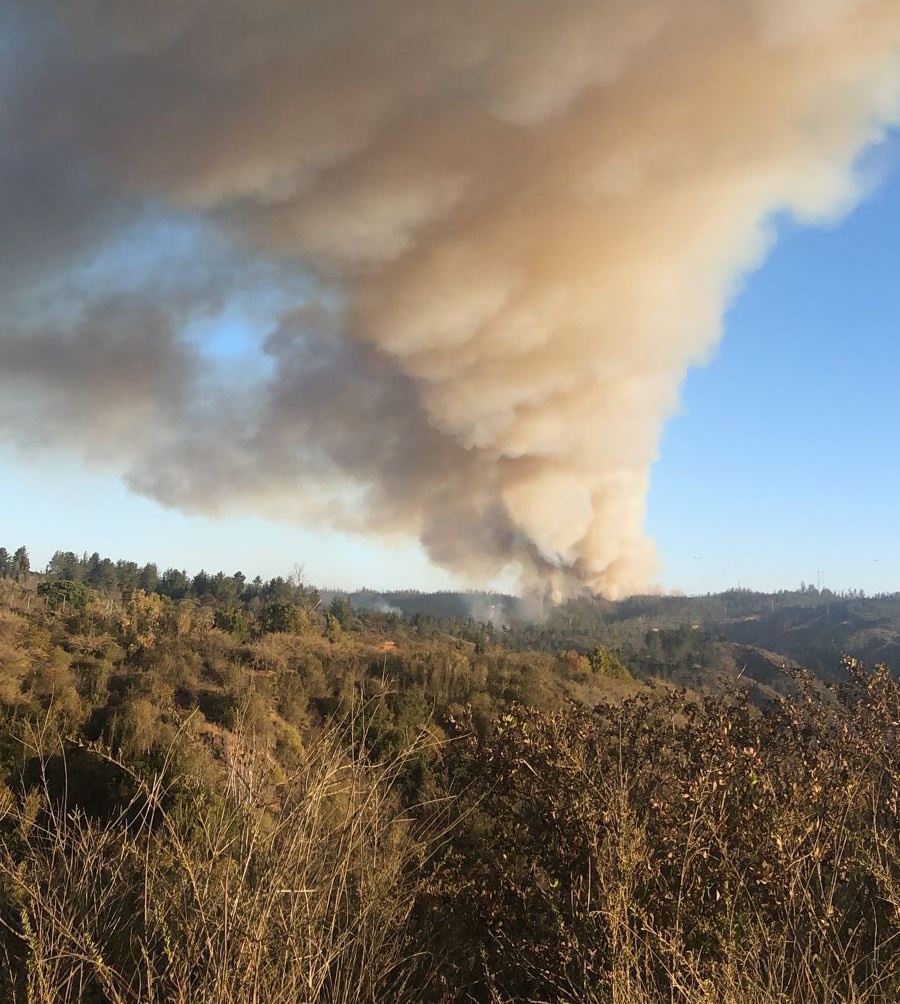 Impressive fire near Valparaiso on March 1, 2022 – Via Twitter @bomberosvina
Africa:
The weather has been harsh on the African continent in recent days. Near Morocco, the arrival of the Depression from the Atlantic caused the eruption of a very strong southerly wind and the abolition of several powerful sandstorms between March 13 and 15.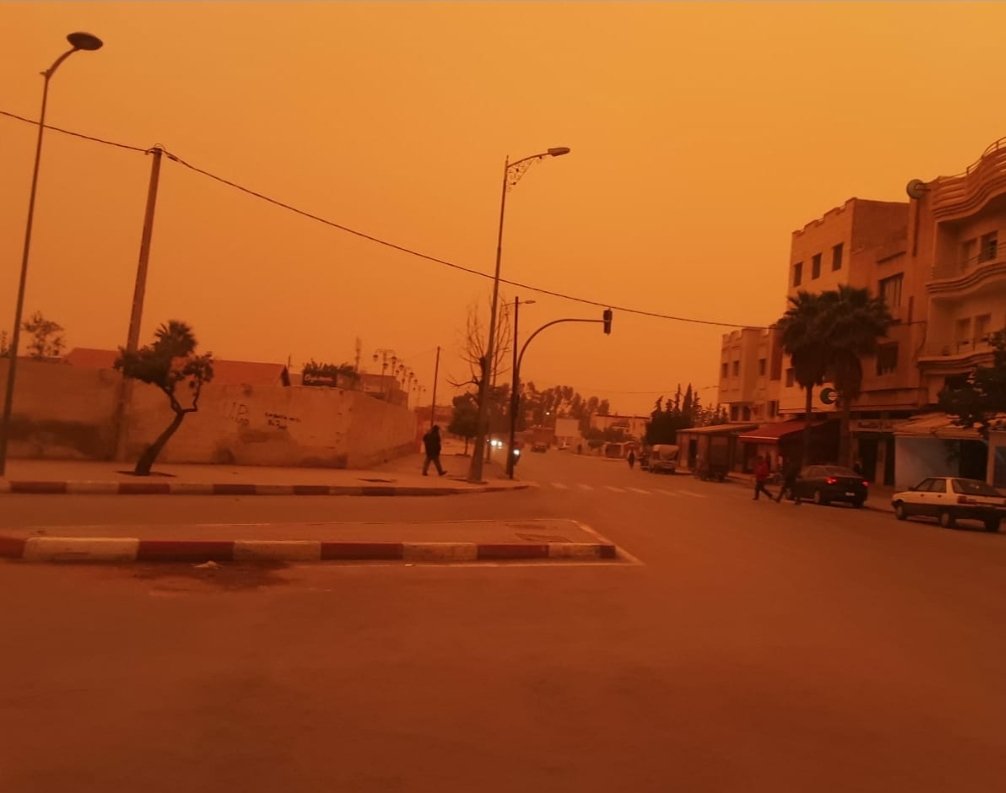 Sandstorm in Oujda, Morocco on March 14, 2022 – Through Twitter @OrientaleMarokko
On the Indian Ocean side, storm Gombe intensified over the warm waters of the Mozambique Canal after hitting Madagascar in the week of March 7-13. It reached quickly category 3 tropical cyclone stage before reaching the west coast of Mozambique between 10 and 11 March.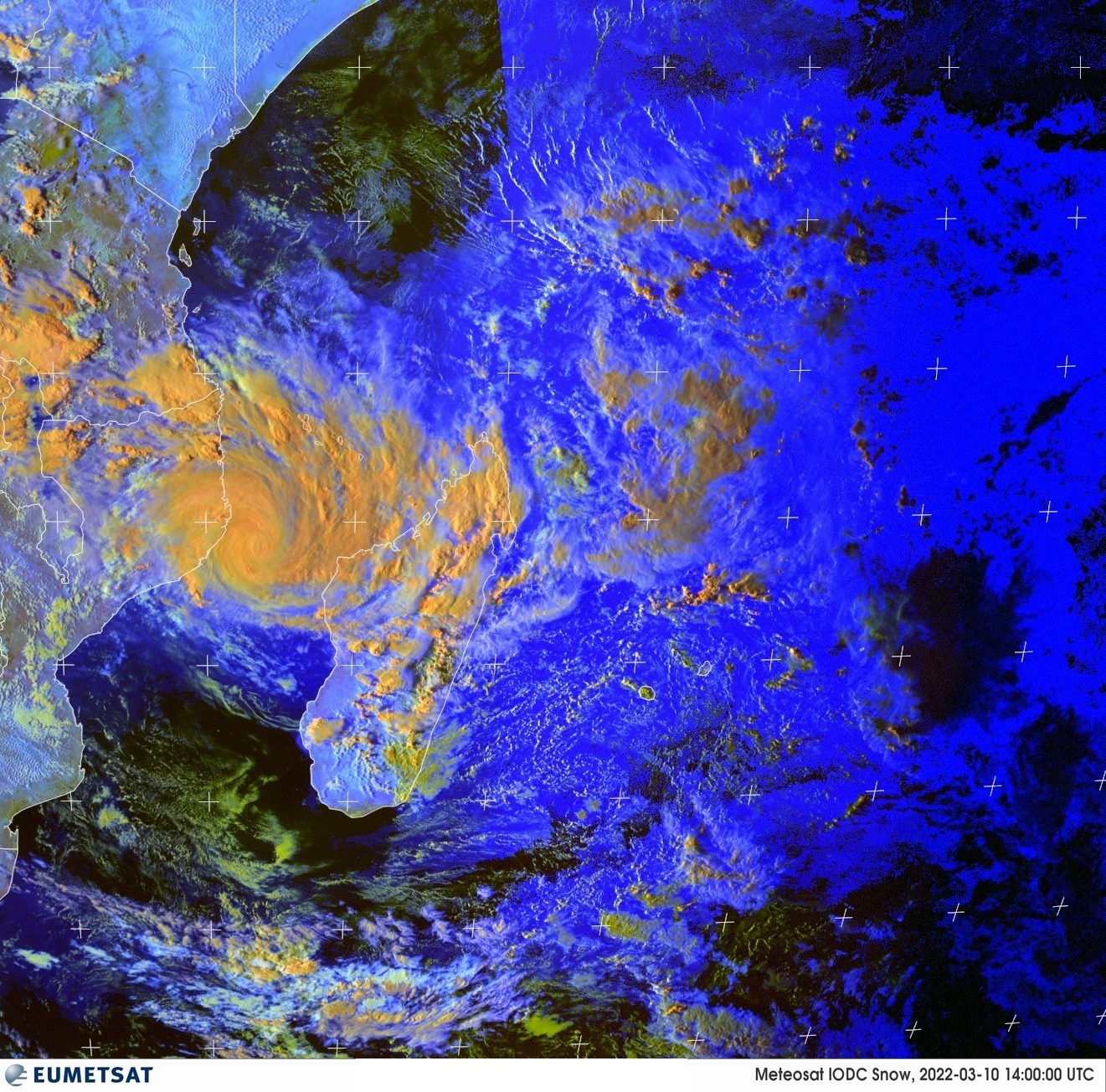 Colored satellite image from March 10, 2022, showing the arrival of Cyclone Gombe over Mozambique –EUMETSAT
This cyclone then hit a large part of Mozambique very hard with gusts of wind exceeding 180 km / h by the coast, but above all widespread flooding. In total more than 400,000 people were hit by the storm and at least 20 victims is to regret.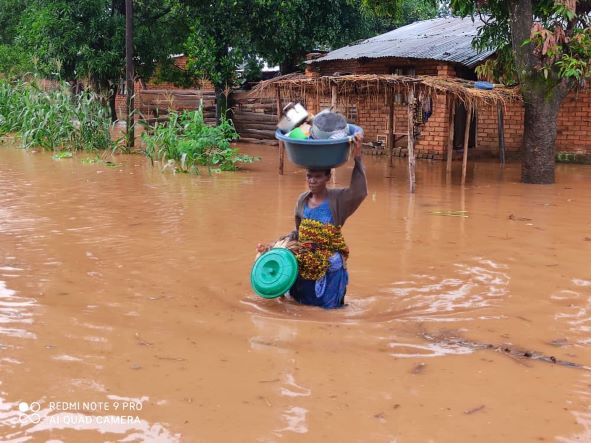 Floods following the passage of Gombe across Mozambique – Via World Meteorological Organization
On the sidelines of this unrest, on the Arabian Peninsula, an early heat stroke was observed in the last week with particularly high temperatures during the period. On March 11, we were able to raise up to 42.1 ° C in the United Arab Emirates, 42 ° C in Dammam (Saudi Arabia), 41 ° C in Qatar or 39.3 ° C in Bahrain (2nd highest temperature ever recorded in March).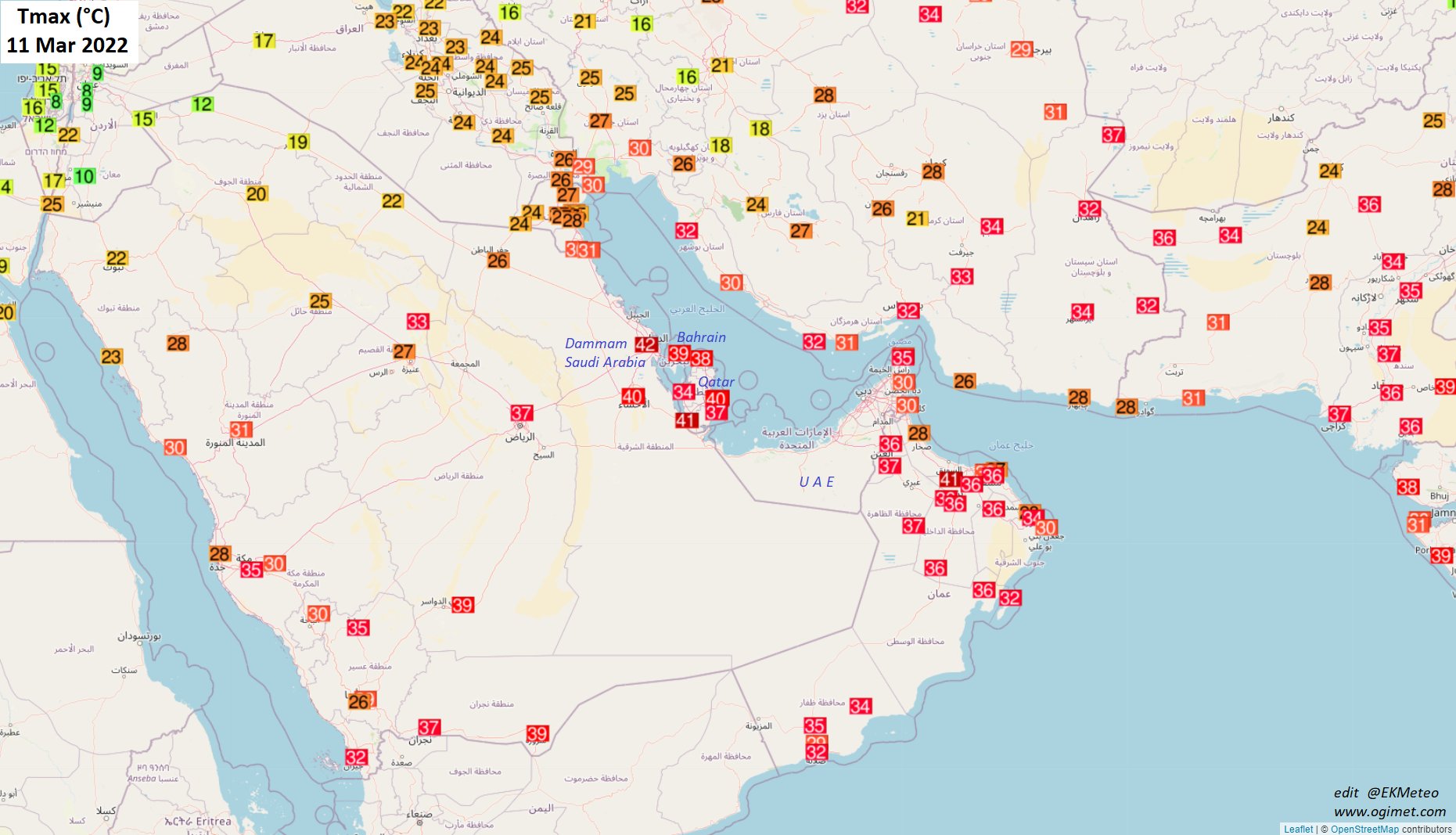 Maximum temperatures recorded on March 11, 2022 on the Arabian Peninsula – Via Ogimet and Twitter @Ekmeteo
Asia:
The heat is also marked for the period in South Asia with particularly high temperatures since the beginning of the week. On March 15, we were able to find out 43.5 ° C in Myanmar, corresponding to the monthly national record dated March 26, 2010.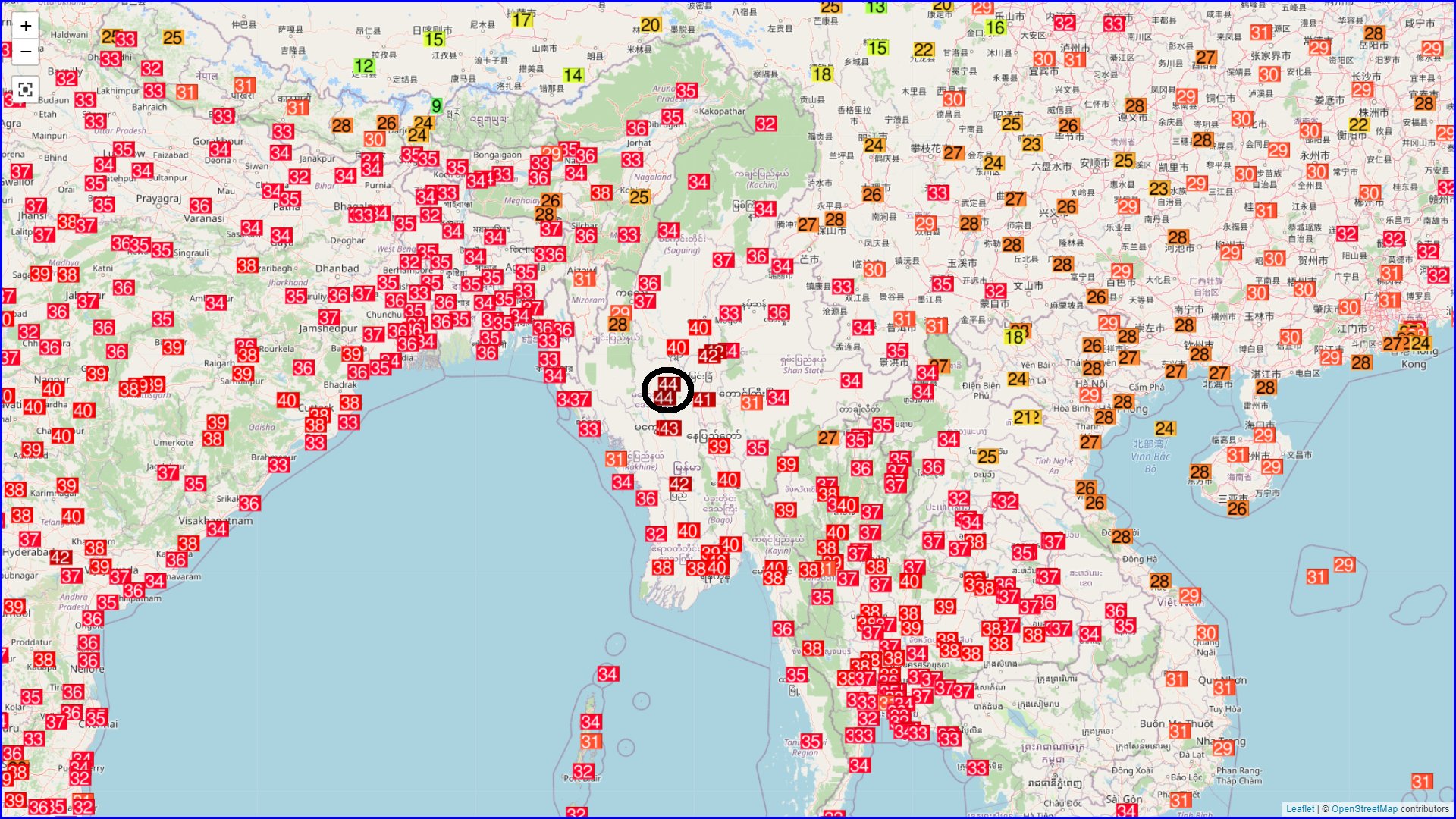 Maximum temperatures recorded in South Asia on March 15, 2022 – Via Ogimet and Twitter @Ekmeteo
In Japan, the first spring heat is felt after a particularly snowy winter in mid-March. The southern part of the island is actually this time exposed to high temperatures during the period and several monthly records were broken on March 16th. We were actually able to raise 27.1 ° C in Miyakonojo (monthly record equal to) or even 25.2 ° C in Makurazaki (victory 24.5 ° C of 07/03/2016).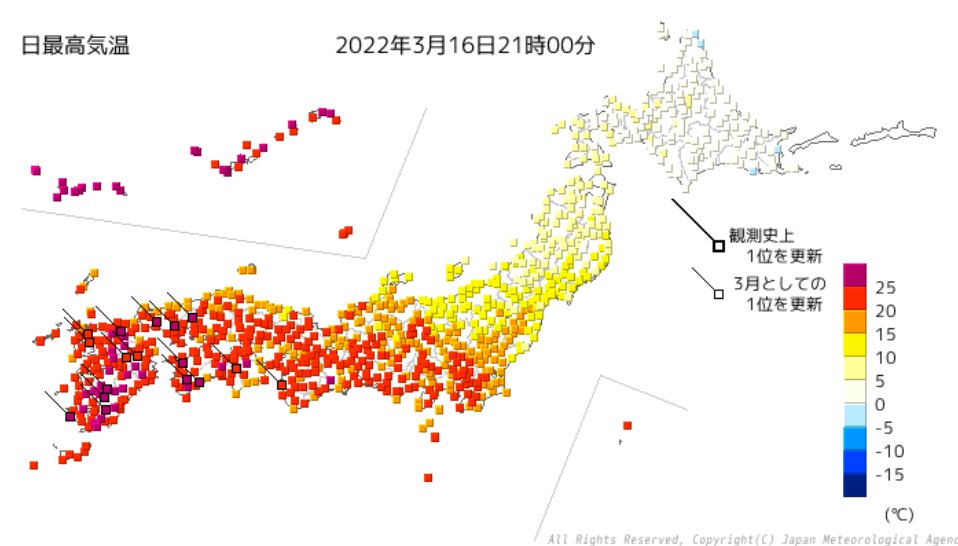 Maximum temperatures recorded March 16, 2022 in Japan – Via JMA and Twitter @extremetime
On the part of South Korea,major fires was observed on the east coast of the country in early March, caused by a recurring lack of rainfall and strong winds. These burned for a few days more than 20,000 hectares of forestalmost destroys 600 buildings and temporarily threatened the Hanul nuclear power plant. No injuries were reported.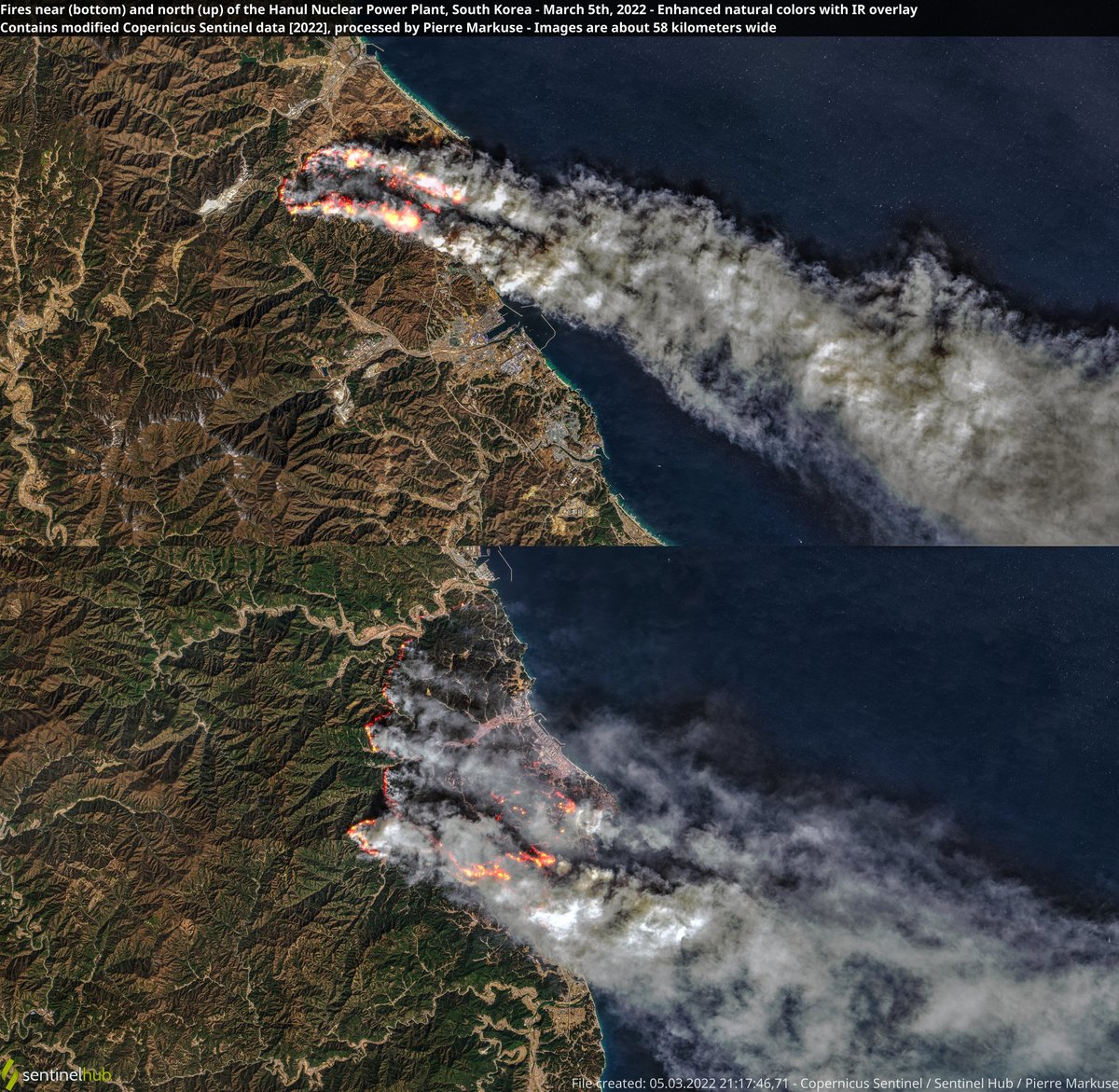 Satellite image of major fires in eastern South Korea on March 5, 2022 – Copernicus
Oceania:
The floods have finally subsided in eastern Australia after proving to be devastating between Queensland and New South Wales. From March 8 20 victims should be regretted and ptens of thousands of people had to be evacuated to Sydney, Australia's largest city.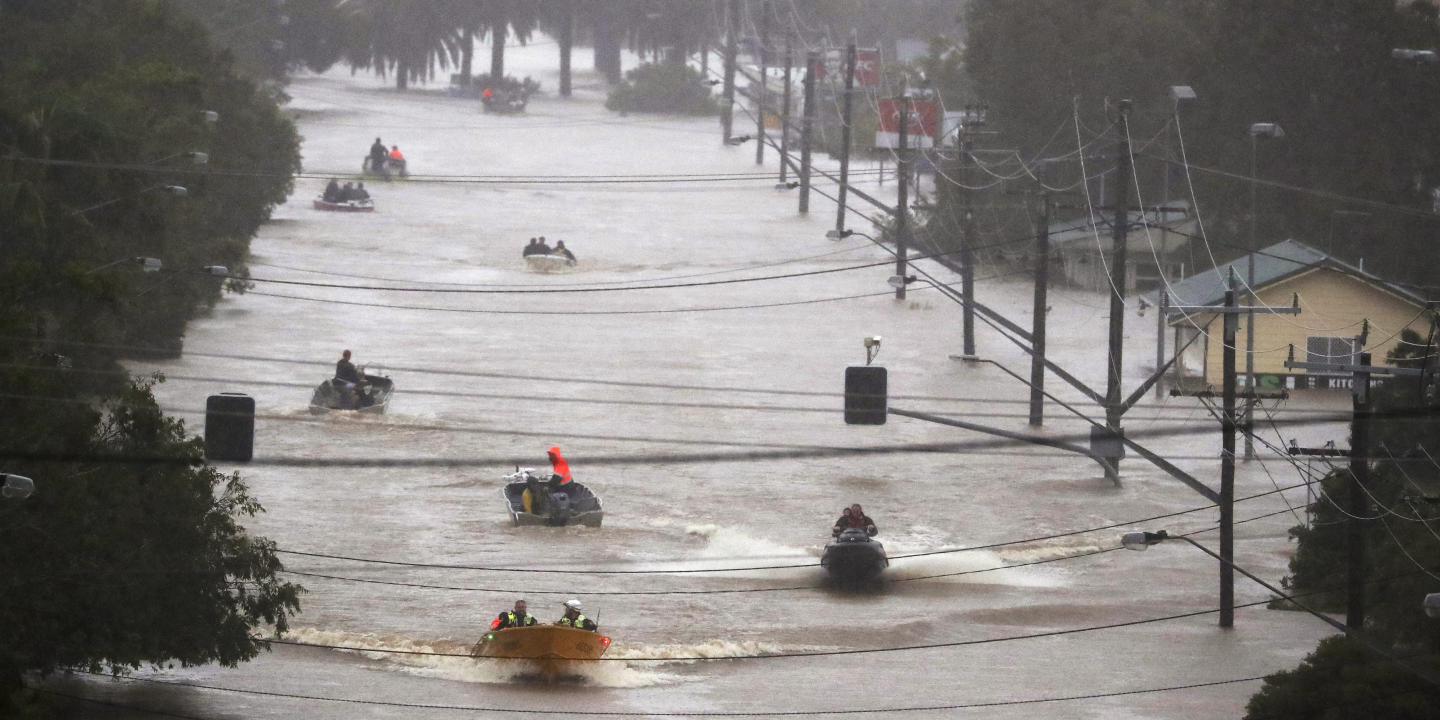 Major flooding in Queensland in early March 2022 – AFP
These unusual floods were qualified as the rainy equivalent of the 2019 fires in the form of natural disasters on the part of the government, these are in truth unprecedented in the sector and was generated by persistent heavy rainfall.
Hundreds of millimeters were recorded in about a week over southeast Queensland and at least 30 stations in the region recorded more than 1000 mm during this timeleading to extraordinary and rapid increases in the region.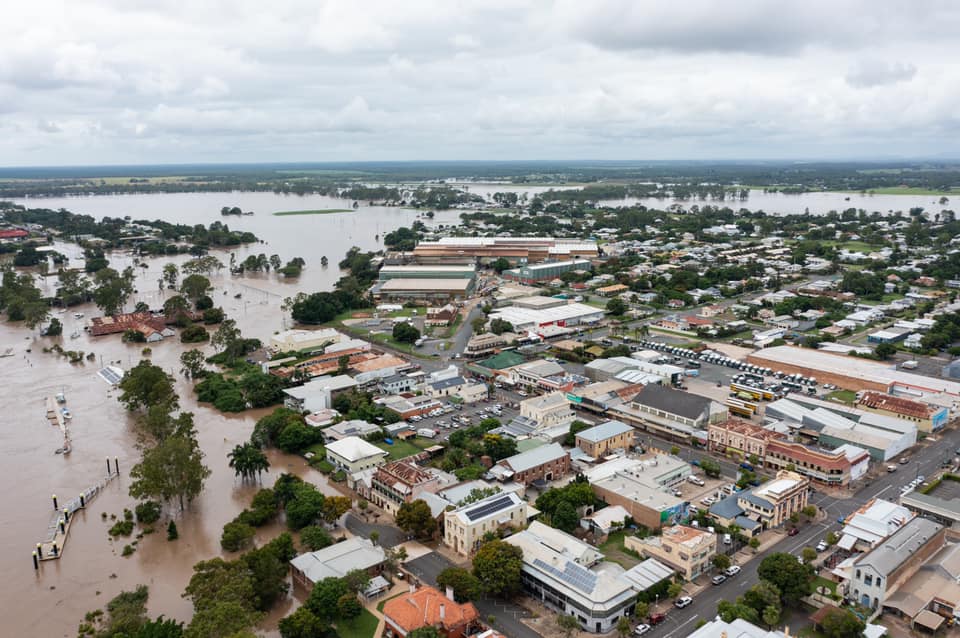 Aerial view of the extent of flooding in Queensland during the first decade of March 2022 – Flood list
If a few thunderstorms continue in the area in recent days, most of the rain has finally disappeared and there was relatively calm weather in mid-March.