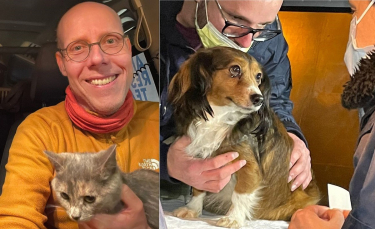 PETA Germany has been present in Ukraine since the beginning of the war Russia launched in late February. On the spot, Daniel Cox and his comrades cross the Polish border every day and defy all dangers to save as many animals and people as possible. The volunteer provides a moving testimony.
On February 24, 2022, the Russian armed forces began their offensive against Ukraine. Knowing that the war would cause many casualties among animals and humans, animal protection associations quickly set out in the region to help these souls in need. Among them is the team of PETA Germany who performs a colossal piece of work in spite of the permanent danger and the difficulties encountered in daily life.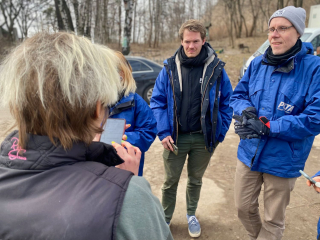 © Leni Lecker
Campaign team leader at PETA Germany, Daniel Cox is responsible for coordinating animal rescue missions in the territory of Ukraine. This 46-year-old man performs and monitors the dangerous daily journeys in which dozens of dogs, cats and other animals are regularly rescued.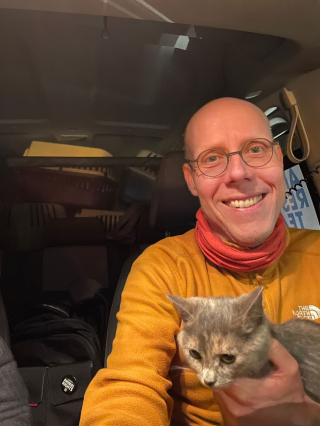 © Daniel Cox
Journeys that begin early in the morning when the convoy leaves Poland to literally be on the battlefield in Ukraine. The race against time and death is underway. It's a matter of reaching its destination, boarding the animals and returning as quickly as possible before nightfall falls under the threat of air strikes and the horrific sirens announcing them.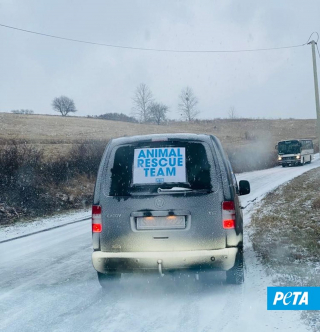 © PETA Germany
It's everyday life Daniel Cox and other volunteers what they face, just like all the people fleeing war with or without their animals. Elina, she did not go without her 12 cats. This Ukrainian was fortunate enough to be evacuated from Kharkiv to Germany with his cat mates thanks to the association. You can see her in this group photo, far left.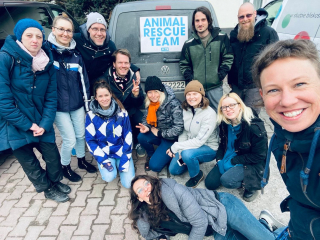 © Leni Lecker
These people who "risk their lives to keep cats and dogs safe"
Elina and her cats are safe, far from the horrors of conflict that animal rights activists face every day with a courage and determination that commands admiration. Daniel Cox and his team responds to their call " all over Ukrainehe said. [Ils] risk their lives to bring cats and dogs to safety and ask us to collect the animals they manage to transport to Lviv from cities as far away as Kiev and Kharkiv », 2 proposed cities.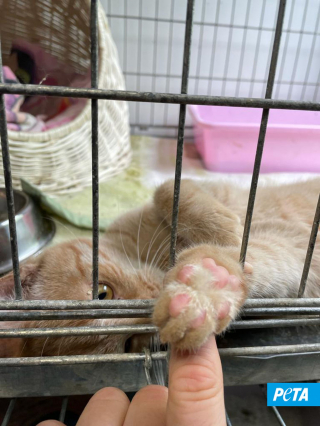 © PETA Germany
Lviv is about 100 kilometers from the Polish border. It is mainly there that the convoys he leads go to collect animals from shelters across the country.
Volunteers are on permanent alert. They must pass the checkpoints manned by Ukrainian soldiers and civilians trying to protect their country, and then return to the border. Even when they have reached this one, they are not at the end of their sentences. The range of vehicles is endless. They have to endure hours of waiting, biting cold and exhaustion, both nervous and physical.
The smile after all
Anyway, Daniel Cox and his comrades always find the strength to pursue their noble mission. From time to time, a little anecdote comes to give them good mood and excess of motivation, as during this recent operation, where 60 cats and 20 dogs, spread over 3 vehicles, were rescued.
After another hard day, the 40-year-old found himself smiling as he watched Dorian, one of the animals rescued thanks to this convoy. The 6-month-old kitten meowed so loudly that her colleague Petya decided to take it out of his box and put it on their lap. Petya (left, photo below), an admirable person, " the most determined and courageous animal rights activist I have ever met ", says about her Daniel Cox.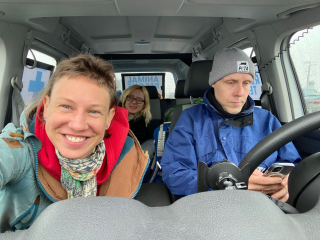 © Leni Lecker
Just as brave and courageous is Elina, the mother of the above 12 cats who had to say goodbye, perhaps goodbye, to her husband who had been taken east to deliver food to the cities where dogs and cats have nothing to eat left. A scene to which Daniel Cox attended and who moved to tears «, He confides.
Sending food to starving animals stranded in war zones is also one of the priorities PETA Germany. The association has thus managed to send 120 tonnes of dog and cat food for distribution throughout Ukraine, where there is an urgent and urgent need ", explains the volunteer who wants to emphasize the importance of" generous support [des] donors in this process. He talks especially aboutOdessawhere the animals have not been fed for days.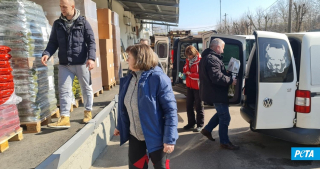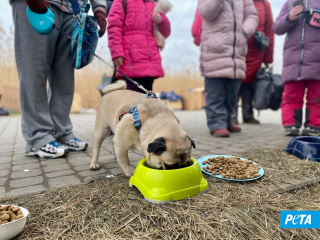 © PETA Germany
Daniel Cox is of course happy for every animal he saves or helps to save, but can not help but think of all those who are not so lucky. There are of course dogs and cats, but also pets. who can not be saved and would not have needed to be if they had not been raised just to be killed and devoured War or not, the lives of these cows, sheep, pigs and other chickens are filled with misery, cruel separation from their families, pain and fear ".
He would like this compassion, which animates the public with regard to dogs and cats, to expand. " to other animals that are equally worthy of our concern because we do not have to adopt for [les] to help. Each of us can save 200 animals a year from suffering and violent death, simply by keeping them off our plates. »
In the midst of all this pain, Daniel Cox is moved by the solidarity he observes every day in the field. The one who mobilizes people who, like him, have left their country to help their fellow human beings, as well as Ukrainians who work to save as many animals as possible, such as.Elina and her husband.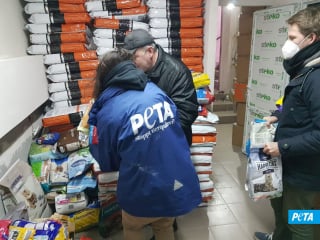 © PETA Germany
A new start for evacuated animals
What happens to the animals that have been evacuated to the Polish border? When they arrive in Poland, they are transported by those injured or sick to the veterinary clinic of the partner organization. PETA Germany. The others are placed in a shelter nearby, where they get food and coziness. Some are fortunate enough to be adopted quickly in Germany and Austria.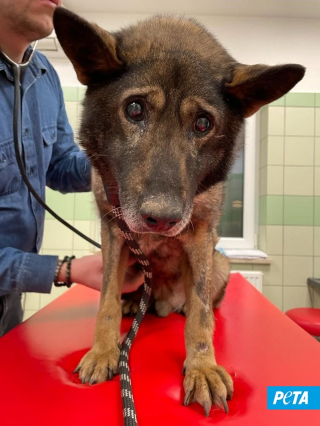 © PETA Germany
The rest is a stay in a German shelter until a loving family has been found for them. Moreover, there is no shortage of potential adopters; messages from people who want to welcome Ukrainian animals come from all over the world. Daniel Cox welcomes, but he asks people who are willing and able to adopt to start with dogs and cats living in local shelters who also had a chance. animals" loving and full of love waiting desperately for a family he says.
ALSO READ: A family meets a senior dog without eyeballs, and breathes new life into his life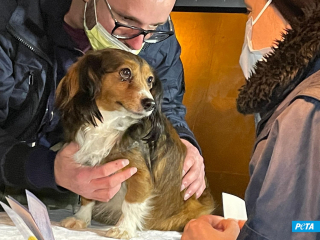 © PETA Germany
Daniel Cox and his team do an amazing job and count countless precious lives saved in their honor, but their mission is far from over. The war continues and there are so many animals that still need help ", he concludes.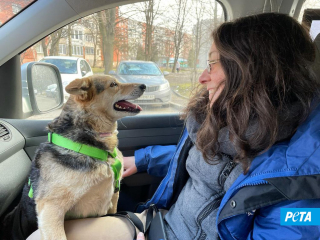 © PETA Germany