Compared to the previous period, 2016-2020, the number of travelers to Trà Vinh increased by 17.84%. By 2019, before the outbreak of COVID-19, the province had welcomed more than a million. And in the first four months of 2022, it numbered more than 200,000.
Duong Hoàng Sum, director of the municipal department of culture, sports and tourism, informed that the latter had drawn up a comprehensive program of cooperation with the Department of Economic Research and Tourism Development in Ho Chi Minh City to promote the strengths of local tourism in his province.
Tourism that respects nature and culture
Professor Phan Thi Thu Hiên, from the Department of Culture at the University of Social Sciences and Humanities of Ho Chi Minh City (National University of Ho Chi Minh City), indicated that Trà Vinh offers a number of attractions integrated into rural tourism. This is the case with the tourist resort of Côn Chim (bird dune), in the Châu Thành district, where the population lives along the Cô Chiên river by breeding shrimp and crabs during the six months of the dry season and by growing rice for the remaining six. The peasants stick to a clean and natural agriculture.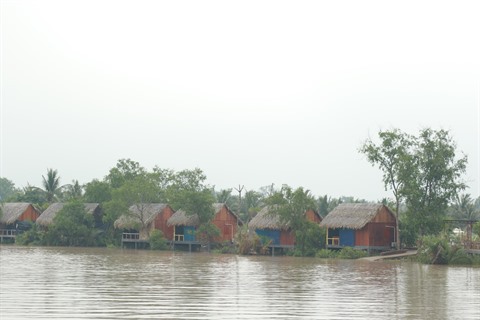 Côn Chim is a site that respects nature.
Côn Chim is a site that respects nature. After two years of operation, in December 2021, it had welcomed around 15,000 visitors.
In contrast to this dune, that of Côn Hô, in the district of Càng Long, is a small islet without electricity, without tarred roads, without motorcycles … The authorities in Trà Vinh have therefore established a model there that combines local tourism and ecotourism … tourism with night excursions with kerosene lamps to bring memories of the past back to travelers.
"With this model and the Khmer cultural village of Trà Vinh already in operation, the province is showing its determination in the development of tourism without affecting the cultural identity of the indigenous peoples", said Prof. Tor Hien.
From a business point of view, Nguyên Ngoc Trang, director of internal tourism services at tour operator Hoà Binh, valued these circuits, which, according to her, "is adapted to the current trend with small groups and family groups, and which are real learning experiences".
The province must have a strategy to promote this original tourist product so that visitors know more, have a different vision to encourage them to come and experience these experiences.
For sustainable tourist attractions
Lê Thi Thanh Thuy, director of Saigon Star Travel, shared that through her personal experience with local tourist products in Trà Vinh, she had many emotions, especially during the "night trip" in Côn Hô.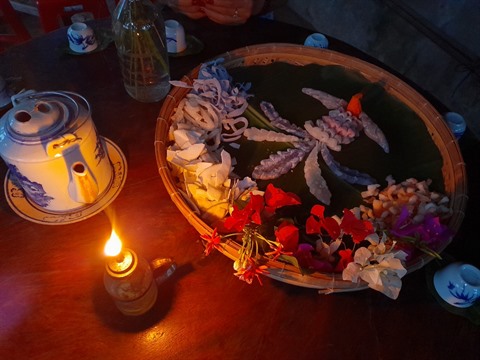 A meal with kerosene lamps is offered during the night visit to the Côn Hô dune, Càng Long district, Trà Vinh province, in the south.
But according to M.me Thanh Thuy, tour operators can take advantage of these tourism models, but the current services are not enough. If the province has good communication, it will welcome many visitors. But, of course, it will be difficult to meet their needs if the services are not professional, especially in terms of human resources.
Faced with competition from nearby localities, especially Cân Tho, Bên Tre, Tiên Giang, An Giang and Kiên Giang, which have tourist centers, excellent infrastructure and good technology, the participants in this seminar came up with suggestions: strengthen the links with Mekong Delta tours, improve rural tourism experiences, diversify craft activities in villages, plan, organize and implement sightseeing through media, develop entrepreneurial policies for ethnic minorities, especially Khmers.
For the dunes Côn Chim and Côn Hô, several speakers suggested limiting the number of visitors to avoid disturbing the lives of the inhabitants.