In 1965, the visual artist Piero Gilardi created "Nature Rugs", very realistic pieces of nature … in plastic. Received yesterday as elements of flexible decor, we can see them today with a very different look: plastic materials have become an invasive and polluting presence all over the planet.
"Plastic nature"?
Piero Gilardi is a main character in the Italian artistic movement "Arte povera". About his "natural rugs", sculptures placed on the ground or hung on the wall representing pieces of landscape, he said:
I created the Tapis Nature in 1965 and thought of them as examples of the interior decoration of the cybernetic "individual living cell" presented at the Machines of the Future exhibition. When I made the first Natural Rugs, I borrowed from Claes Oldenburg his sensory poetics of "soft", but for me the rubber foam had first and foremost the function of welcoming and interacting with the body. "
These Mats-Nature made to welcome and interact with the body, are therefore made of plastic, more precisely polyurethane. In a completely different context, for the philosopher Schopenhauer, who attacks materialism, the very idea of ​​matter without an intelligence to know it is so deviant that it evokes for him this absurd image of a "piece of iron made of wood." We might have offered him this second picture: "of nature in plastic", where the latter is actually as foreign to nature as iron is to wood.
These stylized "pieces" of nature were made of flexible plastic and came to take their place in the decoration of interiors. Seeing them in 2022 as in 1965 is simply impossible. In 50 years, Piero Gilardi has also undergone a radical development in his artistic approach: In 2008, he was one of the founders of the Parco Arte Vivente in Turin, an experimental center of modern art dedicated to nature, biotechnology and ecology. The landscape gardener Gilles Clément's garden, known as the "Mandala Garden", of approximately 600 square meters on the roof of the building, is one of the distinctive installations.
Invention of plastics and plastics manufacturing
After World War II, in the heart of the glorious thirty years and triumphant progress, plastic production increased rapidly. Their use, and therefore the use of polyurethane, is becoming more and more important and diversifying.
---
Read more: How the world was plasticized


---
The chemist Otto Bayer discovered polyurethane in 1937. In 1967, the Bayer K 67 car produced in Germany was nicknamed the "polyurethane car": its entire body was made of this plastic. These polymers, like polyurethane, are the industrial product of petrochemical research. They are totally man-made, and the heart of what is commonly called plastic.

So there is something new in the world. Chemistry has made it possible to design completely new carbon-based materials with extraordinary properties. In the 1970s, physicist Madeleine Veyssié, collaborator of Pierre Gilles de Gennes in Paris, first used the term "soft substance" to name the scientific field that studies the physics of these materials in particular. Pierre Gilles de Gennes' Nobel Conference in 1991 is entitled "Soft Matter". During these years, these materials triumphed and began to invade the planet. But this is only the beginning.
And yet it is carbon first
In his article on carbon for the "Main à la Pâte" site, Didier Pol, associate professor of science, analyzes: "Carbon is present in living things, but also in the atmosphere, water and rocks. Biosphere, atmosphere, hydrosphere and rocks thus make up four He then describes the circulation of carbon between three of these four reservoirs, particularly in this diagram.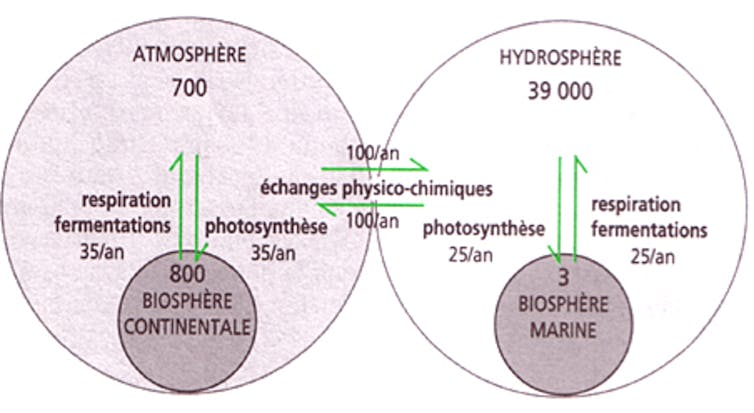 Photosynthesis, respiration, fermentation form the connection between living things, air and water. Photosynthesis especially converts "mineral carbon", CO2present in the air and water, as "biological carbon" in plants.
There are also exchanges between the air that we always fill more with CO2and water: the sea is a huge reservoir of CO2 especially at the expense of its acidification.
This article by Didier Pol is a remarkable description of carbon reservoirs and circuits for use by high schools and colleges. It does not mention plastic, which nevertheless, as a result of human activity, constitutes a new carbon reservoir. For a good reason, at least the most striking in my opinion: If plastic is scattered everywhere, it is not part of the massive carbon cycles on Earth, beyond perhaps a very slow degradation object for study.
And when we ask ourselves the question of this interference in the carbon cycles, we think above all of toxicity. Who sees a way of life capable of feeding plastic waste that would change everything? Currently, they are more and more present, penetrating and dispersed, separated mostly from the circulation of carbon on Earth. We took them out of the oil, a fossil of an ancient living thing, to send them to this dead end. Les Tapis-Nature points to this separation, and it is this that forced on my mind this image of "wooden iron" when in reality everything is only carbon.
The anticipatory power of the works of art
The strength of the art is amazing. I can not see Carpet Nature today without this thought: this work goes beyond even the first intention, explained by Piero Gilardi. With her, Piero Gilardi certainly did not know it yet in 1965, but his work strikes just in light of this formidable emergence of plastic.
We think of the philosopher Hubert Damisch: "Painting not only shows, it thinks". Art historian Daniel Arasse mentions this in support of his analysis of Michel Foucault's text on Meninas by Velasquez in the introduction to "Words and Things". Daniel Arasse clarifies: "The meninas, as we see them today, think on their own and independently of what Velasquez wanted to do. »Is this a marker for larger works?
Piero Gilardi with "this plastic nature", which penetrates the interior, makes us take measurements of these upheavals in the heart of the world urbanization. In my eyes, Rugs-Nature is now becoming a horror show, making them important works.
First, they emphasize our physical separation from the living, which would then no longer be present in our daily lives except through this deviant representation, a plasticized nature, a substitute for our perception. And thus, they are introducing this artificial plastic into the heart of our lives, which is increasingly emerging as a threat to the living. This work is like a warning manifesto.
Works of art have this incredible power: over time, they can go beyond the explicit original intention of their creator, transformed under the gaze of the spectators.
Here again, I listened to the extraordinary Daniel Arasse in his remarks on anachronism in art, still based on Michel Foucault's text. By not bothering themselves with this obvious anachronism, everyone can now seize Piero Gilardi's work in complete freedom. With this work, I discovered this artist and felt admiration for his work, but I could not live with a rug nature at home. But I should: this work that has become terrible today that's right. It reminds us of the need to reconnect with the living and to place the greatest emphasis on what we do with our lives. For example, when we randomly and out of habit throw, like a message sent to the living non-human, a plastic bag that has been used for a few minutes at best.