There are some everywhere in Wallonia. Little by little, grasslands recognized for their high biological value are gaining ground. History in the colorful surroundings of Ciney, where farmers and their herds meet a crowd of other nature actors.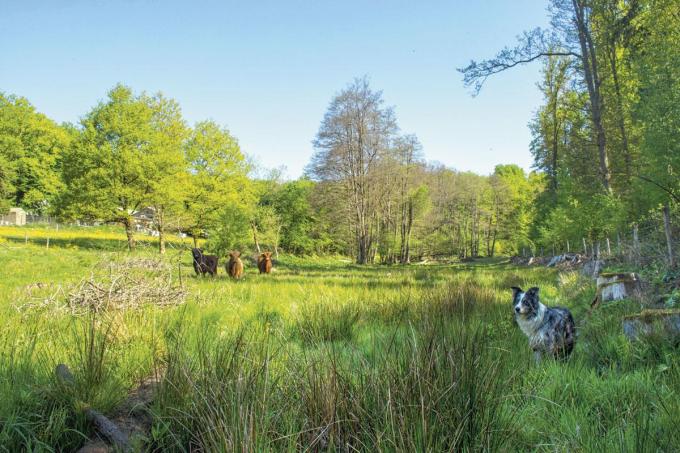 Extensive under green surroundings, a wet meadow is revealed in much more thoughtful surroundings than it seems. After a few steps in the spongy grass, covered here and there with heaps of branches and a fallen tree, three silhouettes come as red as they are impressive, trotting closer before stopping in one last chew. Highland cows, originally from Scotland, are natural stewards who are well-suited to keeping what was previously only brushed land in a state of natural grassland. A few kilometers away, purple orchids spread out over the sunny side of a rural valley, which in turn has become the playground of a particularly rich flora, while newts, frogs and birds have in places recaptured the created small ponds.
The areas under management contract are constantly growing. And the vast majority of the farmers concerned renew their commitment.
It is here, in the village of Ychippe, near Ciney, that Pascal Bigneron started organic farming ten years ago with his brother Cédric. It all started with a wind farm not far away, as compensation for the fact that a few unused hectares have become nature reserves. "At that time, we got a number of small reasons, for the most part overgrown," says this robust bearded man who still works part-time at GSK. Eventually, with the help of animals, we got old-fashioned meadows. We are completely self-sufficient, as our animals only eat what we produce on the farm. " Today, Pascal and Cédric Bigneron manage between fifty and sixty hectares, fifteen of which are meadows with high biological value.
The sheep in front of the rotor cutter
In addition to its highland cows and a few donkeys, its flocks of goats, classic sheep and Soay sheep are the essential allies in an approach where nature is as much a service to itself as to the surrounding actors. This green environment is actually the work area of ​​the Department of Nature and Forests (DNF) in Wallonia, for the non-profit association Natagriwal, which accompanies farmers in the field, or even botanists and students from Gembloux Agro-Bio Tech, who conduct censuses and various observations. It is also suitable for a close collaboration with the provincial estate Chevetogne, located in the immediate vicinity of Pascal Bigneron's farm. "We wanted a little more space, they had a hard time maintaining certain reasons," he clarifies. The estate sometimes had to call in workers for several days, equipped with rotor cutters or brushcutters. We have therefore established a mobile grazing facility that covers several hectares in the area, where we even do some mowing. "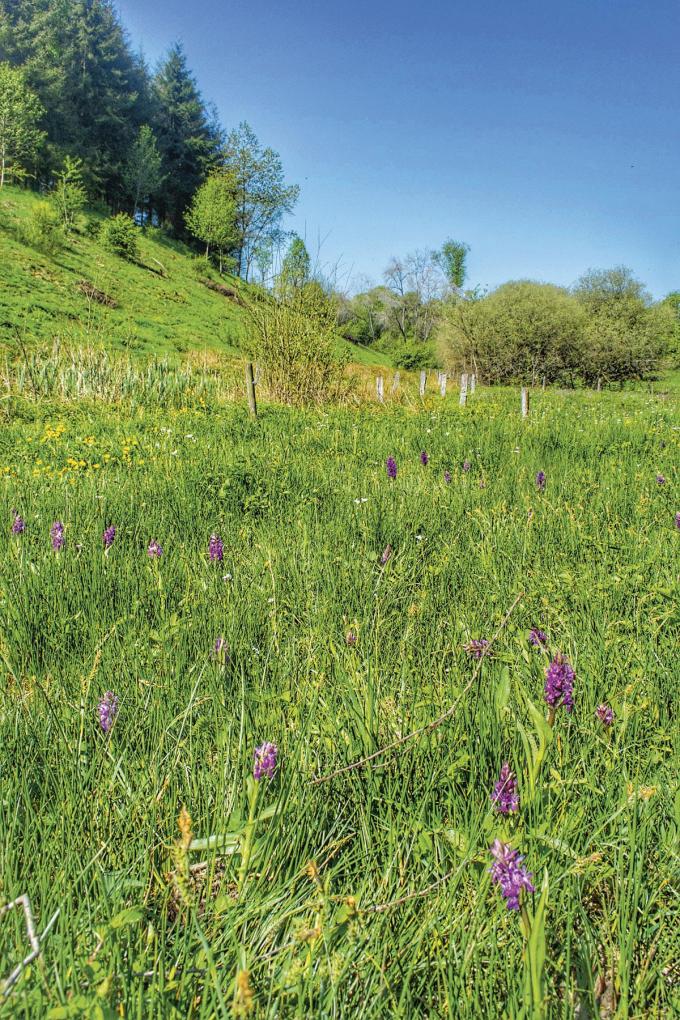 Grassland with high biological value is a subset of natural grassland, all of which are characterized by their low-intensity management. For the latter, a farmer can claim an annual premium of two hundred euros per. hectares subject to compliance with the specifications defined by Natagriwal. As soon as they host a particularly rich biodiversity, the strengthening of these specifications justifies the payment of an annual amount of 450 euros per year. "For the most part, meadows with high biological value have a botanical interest," confirms François Cerisier, a consultant in agro-environmental methods at Natagriwal. They often reveal a particularly rich procession of grassland plant species, whether grass or flowers. the regions. "
By trial and error
Famenne, the Ardennes, Gaume and Lorraine are all natural regions that are likely to house a large number of meadows of high biological value, although they are found throughout Wallonia. One of the simplest criteria for justifying this status is to observe at least fifteen interesting species of plants in several places on the same meadow. Subsequently, farmers who are sensitive to the approach adapt the case – by – case management method according to good practice defined in consultation with Natagriwal. "We sometimes work by trying and failing before we achieve a satisfactory result," comments Pascal Bigneron. In high biological value, there are two main ways to practice: either by mowing or by grazing for the least accessible plots. The mowing can be postponed in season to achieve perpetual flowering, just as plots can be grazed at certain times. It is obvious that we are not currently putting our cattle in the orchids.
Between 1980 and 2018, the area of ​​permanent grassland fell by 23% in Wallonia, Natagriwal points out. These will cover approximately 308,000 hectares. Urbanization, abandonment of agriculture or cultivation are the main reasons. Nevertheless, the non-profit association notes a growing interest from farmers in the regulations on agricultural environment and climatic methods. "The areas under management contract are constantly growing," says François Cerisier. In addition, the vast majority of the farmers concerned renew their commitment. " The benefits are obvious, as evidenced by one of the meadows visited in Cinacia, where the restored slope is much richer in species and colors than the one facing it.
Despite this vicious circle and the return of certain rare species, the decline in adjacent biodiversity remains drastic, Pascal Bigneron noted over the last ten years: Especially butterflies and certain birds are becoming increasingly rare. Therefore, it is necessary to re-establish the connection as much as possible with less intrusive management.
Step
Stage 1 – 14th to 30th April
Register your garden at levif.be/enmaitontealarret and create your BioPlanner profile.
Stage 2 – 1.-26. May
Delimit an uncut area in your garden and observe the fauna and flora.
Stage 3 – May 27 to June 3
Randomly define a 1 m² control field on your uncut area and count your flowers.
Stage 4 – June 9
Discover your "nectar index" on BioPlanner and the results of the operation on all Le Vif media.