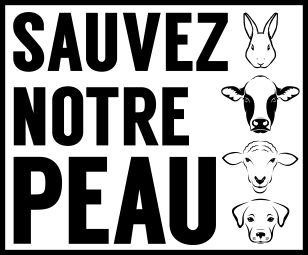 A dog whines at the sight of its comrades being beaten in the head and skinned … a lamb howls in pain while the tail is cut off … and an exhausted cow bellows as it is forced towards the bathed building of blood where it will find its end.
As you read this, animals are being abused and killed for the skin, wool, fur or feathers on their backs. But you can help PETA end this suffering by supporting our Save Our Skins Challenge and bringing us closer to our goal of raising € 50,000 by 30 June.
Please donate now – the animals need you!
This personal information is requested because we want to be recognized as a public utility association. These will therefore help us in our contacts with the French authorities.
To keep in touch
FR ALL Subscribe E-News = No: This will be displayed on the screen after a user has selected 'No' as the E-News radio button
FR ANY OPT-IN ENCOURAGEMENT: Support our work to save animals. Select YES to receive emails …: This text will only be displayed if there is at least one opt-in displayed on the page
You can see our full privacy policy here. You can change the way we communicate with you at any time, including to reduce the number of letters we send to you or to unsubscribe from all our communications. To do so, please contact us via this online form. Current subscribers: You will continue to receive emails from us unless you explicitly unsubscribe here.
Apple Pay / Google Pay: Please fill in all required fields. [email protected]Data Processing and Freedoms: Pursuant to Act 78-17 on Data Processing, Files and Freedoms of 6 January 1978 as amended on 4 August 2004, you may access, modify or delete the information in our file relating to you by contacting us at the following address: