Portrait of four candidates selected for the show Kitchen Battle. They highlight the traditional dishes of Mauritius and try new recipes. You will be able to see them at work during the "matches", which will be broadcast on the Defimedia.info Facebook page and TéléPlus YouTube channel. This culinary competition is organized by Défi Digital and TéléPlus in collaboration with Tea Blenders Ltd and Island Meat Distribution.
Soomeiya Bibi Nadair: head in the pots
Cooking is another nature for Soomeiya Bibi Nadair, 21. When this college student does not have her head in her books, it is behind the stoves that we find her. She prepares tasty meals for her family, teachers, friends and for personal enjoyment.
"Cooking is a passion that allows me to forget my problems. I feel comfortable in the kitchen. Since we need food to live, I think you have to know how to have fun," she says .
She started cooking when she was 15 years old. Her first course, macaroni, proved to be successful. That was the beginning of his culinary adventure. "I mainly make dishes that I like. Because I not only like to cook, but also to eat, "she confides.
Cooking is a passion that allows me to forget about my problems. I feel comfortable in the kitchen "
Soomeiya Bibi Nadair mainly makes Indian and Mauritian dishes: briani, butter chicken, kebab, typical Mauritian tikka, stew, kalia, fried noodles, fried rice, curry, grilled meats, appetizers and desserts of all kinds. She has more than one string to her bow and does not like to limit herself.
"When I saw the ad for Kitchen Battle, I thought of my friends who told me that vegetable briani took their time. Since I have a simple method of cooking this dish, I would enter the contest and suggest it. For Soomeiya Bibi Nadair, this was the perfect opportunity to share her recipe with the public.
She was naturally in front of the jury during the auditions. "The jury reassured me. I especially appreciated the efforts of the various participants supported by their families. For this passionate chef, it is more than winning, it is the participation that counts. It is an experience to live." I think one never stops learning. We learn new things every day. I want to improve my cooking and practice new techniques in less time for the next phase of the competition, "she points out.
Laura Sangeeleemootoo: the taste of sharing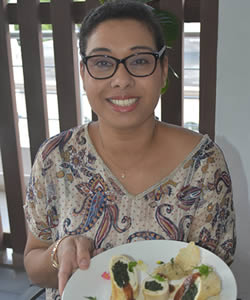 Laura Sangeeleemootoo, 42-year-old administrative secretary, is stuck for culinary competitions. She shares her love of cooking with her mother.
In college, she says, she never missed a cooking class. Subsequently, she rejoiced in reproducing what she had learned. This love grew after her marriage and when she became a mother. Especially since her husband is also a lover of gastronomy and the kitchen has become their playground.
"I helped my husband, who often made tasty dishes. So I was his clerk and I ended up developing this love. We spend a lot of time in the kitchen, he and I. She is later joined by her children.
Today, it is for her friends and family that Laura Sangeeleemootoo cooks for parties and family events. "Being in the kitchen puts me in a good mood and gives me the opportunity to unwind after work. The kitchen is for me a division. It keeps me positive and allows me to vent my emotions. For her, there is nothing that beats the pleasure of arousing the taste buds of her guests.
Kitchen Battle is a springboard to develop my know-how. It is a challenge to be able to measure myself in relation to other enthusiasts »
Chicken curry, smoked tuna with avocado and mango, duck breast and tandoori with curry leaves are some of his specialties. The mother is in favor of responsible cooking and is in favor of waste control.
"Food waste concerns us all and I am raising awareness of it among those around me and my children."
Quality means a lot when cooking. According to Laura Sangeeleemootoo, there are many easy and delicious recipes you can make with leftovers. For the bread: a pudding, French toast, subs, breadcrumbs. With fruit: compotes, crumbs. With chicken: a salad, a chutney.
During the auditions, the chefs were won over by her sense of detail and taste. "Kitchen Battle is a springboard to develop my know-how. It's a challenge to be able to measure myself with other cooking enthusiasts. I also share my passion while learning. The jury's comments were constructive for the future. »
The candidate is now preparing to aim for perfection while learning to manage her time. She intends to impress the jury with the creativity and taste of her dishes.
Veeramootoo Murdamoothoo: promotion of food of yesteryear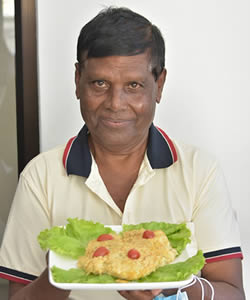 Veeramootoo Murdamootoo (Vassou) is taking part in a culinary competition for the first time. The 71-year-old searched Kitchen Battle after hearing the announcement on Radio Plus.
"I signed up to share my passion for cooking. I also want to show that you can prepare tasty dishes with food from the past, such as breadfruit. This fruit and its benefits are little known by the new generation. While it was part of our diet before, "emphasizes Curepipien. This is how he made a breadfruit gratin for the auditions.
He states that he wanted to present a common recipe, but with a rare item. "I usually make a gratin with christophines (darling), calabash and pumpkin. I tried au gratin bread for the first time and got the expected result, "he says.
Children do not have information about the benefits of certain previous products, such as cassava. I want to highlight them "
The pensioner tells us that breadfruit was once available in a variety of dishes: cake, curry and cooked.
"This fruit is consistent. It was eaten boiled and buttered, accompanied by a cup of hot tea. He regrets that the new generation has become accustomed to fast food and processed foods." Children do not have information about the benefits of certain previous products, such as cassava I want to highlight them.He also wants to promote the traditional dishes of Mauritian cuisine: fish curry with aubergines, chicken with dal gram with masala or sautéed lamb.
Veeramootoo Murdamootoo was born into a modest family. He was 10 years old when he fried an egg and pieces of meat. "My mother worked in the sugar cane fields, and I lost my father when I was 8 years old. As the youngest of seven siblings, I prepared certain meals. »
After graduating, he took a job in the construction sector. He continues to cook after the wedding, even though his wife is also cordon bleu.
He admits he has a mistake. "I prefer to cook rather than clean the house. When I cook, I mess up. When I'm done, I make an effort to put the products and utensils back in place."
And to add that his two children have inherited his talent. "My son is in France. He likes to cook for those around him. When I go there, I make meals for relatives who say they appreciate them."
Deena Toylocco: the love of good food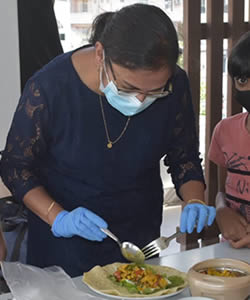 Jackfruit is a fruit that Deena Toylocco, 39, likes to cook. She prepared a vindaye with chicken and jackfruit to impress the jury during the auditions.
"The idea was to work with a well-known and valued dish. I found that the jacquee fits very well with the chicken window. I added caramelized pineapple slices for a sweet touch. The dish was neither too greasy nor too spicy, "says the resident of Henrietta.
She is participating in a culinary competition for the first time. Kitchen Battle allows him to overcome his shyness, meet other cooking enthusiasts and interact with them.
It was while browsing the Defimedia.info Facebook page that she saw the announcement of Kitchen Battle. "My sons are fans of culinary competitions that are broadcast on international channels. They encouraged me to participate because they want to see me on television. To please them and to be seen as a star in my sons' eyes, I broadcast my application in. »
Her children are 8 and 10 years old. They followed her during the auditions. Fans of Radio Plus, they follow the program Allô Maurice during the trip to school.
My sons are fans of culinary competitions that are broadcast on international channels. They invited me to attend, they want to see me on TV.
They appreciate the cakes their mother makes for them. On weekends, they are entitled to a special non-vegetarian meal. "At school, they eat vegetarian meals. So I make them happy by, for example, cooking butter chicken and naans on the weekends, "says Deena Toylocco.
His children often get their hands dirty. Her husband also helps her cook. "When I prepare a new recipe, he will taste it and give me his opinion," she says.
The 30-year-old has always loved his parents' cooking. "When I was little, the crackle of the fricassee at the bottom of the frying pan and the scent that came from it fascinated me. I was quick to touch the ingredients, "she says.
Deena Toylocco wants to highlight the dishes that her grandparents once cooked. "These days, kids are turning to fast food. We can prepare it at home, in a healthier and more balanced way. Therefore, the kids will be more interested in tasting the vegetables."