Do you dream of a place where you are the "masters of the time", a place lost in the middle of nowhere, where you can forget your to-do lists, your appointments and other stressful things in your daily life? If so, you will love discovering Eigg, a very special place tucked away on the west coast of Scotland. The Isle of Eigg is located in the Hebrides Sea and is part of the Highland Council area. On this island you will discover Sweeney's Bothy, small independent houses built as part of The Bothy Project. This project is to offer a one-week stay to artists for 6 months a year in Cairngorm National Park in Inshriach. The other 6 months of the year, the little houses are open to individuals … Forget everything and discover this well-hidden little treasure!
A very special place
Eigg belongs to those who built it; they wanted it powered by renewable energy and focused totally on the conservation of this protected natural area. No running water or electricity: in Eigg you are the master of the time or rather, you are modeled after nature … When you get up at dawn and go to bed at dusk, you will live completely off the net for a week. Reading, ceramics, relaxation and to let go will necessarily be on the program of your stay. "Take advantage of the time it takes to do the simplest things ", vthat's how the owners of the place describe the atmosphere on the Isle of Eigg!
Focus on Sweeney Bothy's
Sweeney's Bothy is designed in collaboration with the artist Alec Finlay, and its name, Sweeney's Bothy, comes from the name of a Gaelic king from the 7th century. This king would have lived for 10 years in the desert by using only what nature had to offer him! In this modern and comfortable room you will find something to sleep, eat, wash … But forget the multi-jet shower or the rain shower, itIt's in the open that you'll have to take your shower!
Inside you will find a living room with wood burning stove, a well-stocked library and a cozy armchair … The kitchen is equipped with utensils, but you will have to rely on a single gas stove to prepare your meals. Hot water comes from solar panels when the weather allows it, but it still has a boiler powered by the stove. With regard to drinking water, it comes from the source… Recycled furniture, a mattress and a duvet in organic wool welcome you in a cozy interior. And so can you admire some works of artleft by artists on holiday …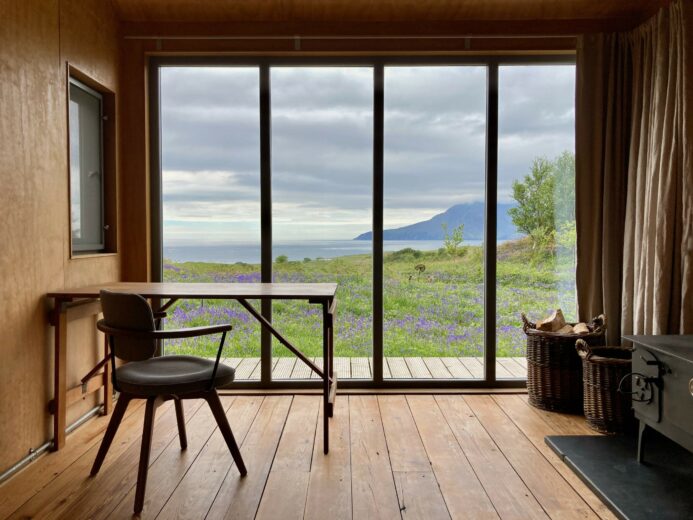 A few other juicy details about Sweeney Bothy's
The Isle of Eigg is not connected to any network, so electricity is produced on the islande from renewable sources and two solar panels installed on the island. So do not expect to find a refrigerator that provides cold water and ice cubes, but rather a cooler and ice packs provided by the hosts! Please note that if you live on the Isle of Eigg, all chemicals are prohibited. You do not need to bring your shower gels and chemical soaps, hygiene kit included like dishwashing liquid, which must also be organic … Maybe the reason is to get into solid cosmetics?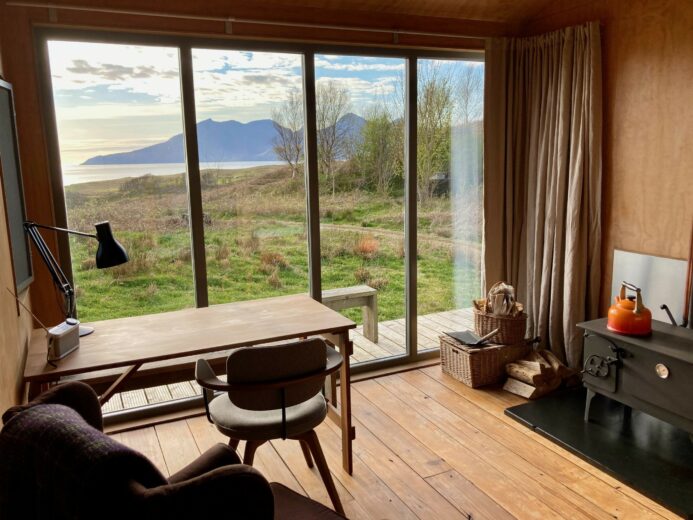 One last detail and not least to know: no car on site! Island owners will pick you up at the pier and drop you off there at the end of your vacation. For mobile networks pass some, but not all, so it will be the surprise of the stay! You will still find a WiFi access point at the school on the island or in the cybercafe on the pier … PFor reservations, go here: eiggtime.comit is necessary to count between £ 550 / £ 575 (640 € / 670 €) per week (excluding Christmas and end of year holidays).