Data.ai analyzes the increase in usage and downloads of travel apps.

Despite inflation, travel and navigation app downloads, an increase of 25% year-on-year, top 1.4 billion worldwide from January to May 2022 as the holiday season approaches the travel season
Recent analysis from data.ai shows that downloads of AirBnB, Booking.com and Expedia apps in the US doubled in the first week of May compared to the first week of the year as consumers plan their summer trips.
What happens :
A recent data.ai analysis shows that the use of travel and navigation apps has grown steadily since January this year. It also shows an increase in app downloads year-on-year across the top 5 travel apps across 3 different app sub-genres – underscoring the fact that US consumers are eager to travel regardless of travel issues.
In fact, more than 80% of American adults plan to travel this summer. In addition, a study by the US Travel Association found that Americans spent $ 95 billion on travel in March 2022, only 5% below pre-pandemic levels in 2019, indicating that we are heading for a continued recovery in the sector.
According to data.ai's App IQ, app downloads of the top 5 transport and navigation apps in the US peaked at 21 million in the first 18 weeks of 2022 compared to the top 18 weeks of 2021, a 2% increase despite a slight decrease in Lift and Waze. GasBuddy has taken the lead and tripled its downloads to almost 2 million so far in 2022, an increase of 190% over the previous year – which can probably be largely attributed to consumer feedback on the rise in the price of petrol. Nearly half of GasBuddy users were over 45, indicating concern among Gen Xere and baby boomers in the United States.
The airlines 'apps experienced the largest percentage increase compared to the previous year (+54%), where the 5 best airlines' apps all experienced a significant increase in downloads. The leading airline app is United Airlines, which has 57% women and 53% users between the ages of 25 and 44, or "millennials". The top five apps for hotel reservations and integrated travel services saw a 34% increase in downloads compared to the previous year, with number one in this category being VRBO. Interestingly, the demographics of iPhone users in the United States reveal that VRBO is predominantly women (76%) and 56% aged 25-44. Such data helps app publishers determine the demographics of users who are most engaged with an app, relative to those who require additional targeting. It is important to incorporate this into a relocation strategy in times of high seasonal demand.
Why it's important:
By looking at downloads and weekly active users of six selected travel and accommodation apps (Airbnb, Booking.com, Expedia, Hopper, Hotel Tonight and Kayak), data.ai found that inflation overall had no effect on consumers' app activity. In fact, the opposite is true: of the selected apps, Booking.com has experienced the largest year-to-date increase, a 122% increase in downloads and 95% in WAUs during the week starting May 1, 2022 compared with the week starting January 2, 2022. This indicates that people are in planning mode and preparing for long-awaited summer trips after years of travel disruptions due to à la Covid – and they are looking for a coup while doing so.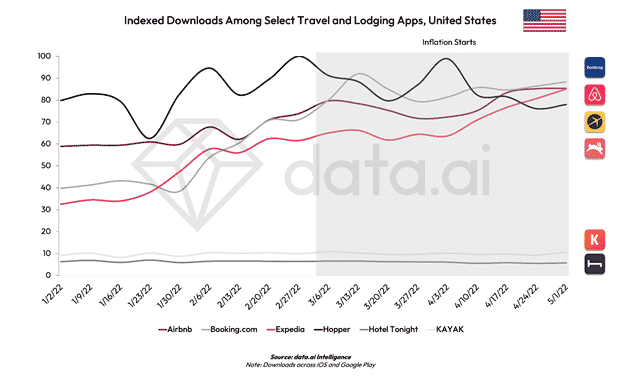 Hopper experienced one of the first increases in download activity in February 2022, but Airbnb began gaining momentum in late January to increase Expedia slightly in the week beginning May 1, 2022. Despite this, the growth in downloads from Expedia remarkable with a 162% increase in the first week of May 2022 compared to the first week of January 2022. Airbnb has been implementing a paid download campaign since the beginning of the year and its investments have paid off: more than half of its iOS downloads in the US between January and March 2022 come from paid sources.
Even with rising inflation in the spring, weekly active users have steadily increased for Expedia, Booking.com and Hopper. These data, which highlight the fact that consumers are looking for travel and adventure despite unstable market conditions, suggest that app publishers should take advantage of this year's travel season to reach consumers and create creativity in advertising to take advantage of latent travel desires. . Demographics gives travel app publishers additional insight into their current top consumers and who they should try to attract more.
Further.
Looking at weekly data for the same period ending May 8, 2022, data.ai found an increase in the total time spent on Android phones for each of the 6 apps, as well as an increase in average active days and retention users for 5 of the 6 applications.
Overall, data.ai's analysis shows that consumers are eager to travel amid easing restrictions despite inflation concerns. The rise in GasBuddy downloads shows that consumers are still looking for ways to save money when traveling or commuting between home and work (instead of avoiding the trip altogether). Total time spent in Hopper increased by 142% year over year, suggesting that consumers spend more time looking for ways to save money while still prioritizing travel.