Pyt, Stéphane, the former blacksmith, knows them by heart, and he was not born as the one who will try to cheat. Meet a passionate person who is not afraid of heat waves, snow or sharp horns and above all … who runs fast if necessary.
As you enter this park, it is silence and tranquility that dominate. Are you sure it is inhabited? Above all, do not trust it! Although the rooms are very large, there are about 80 animals out of 12 different species, which are spread over the park's 55 ha. There are deer, hinds, Prewalski horses, wild boar, elk, deer, aurochs, tarpan, deer, mouflons, sheep, deer and European bison.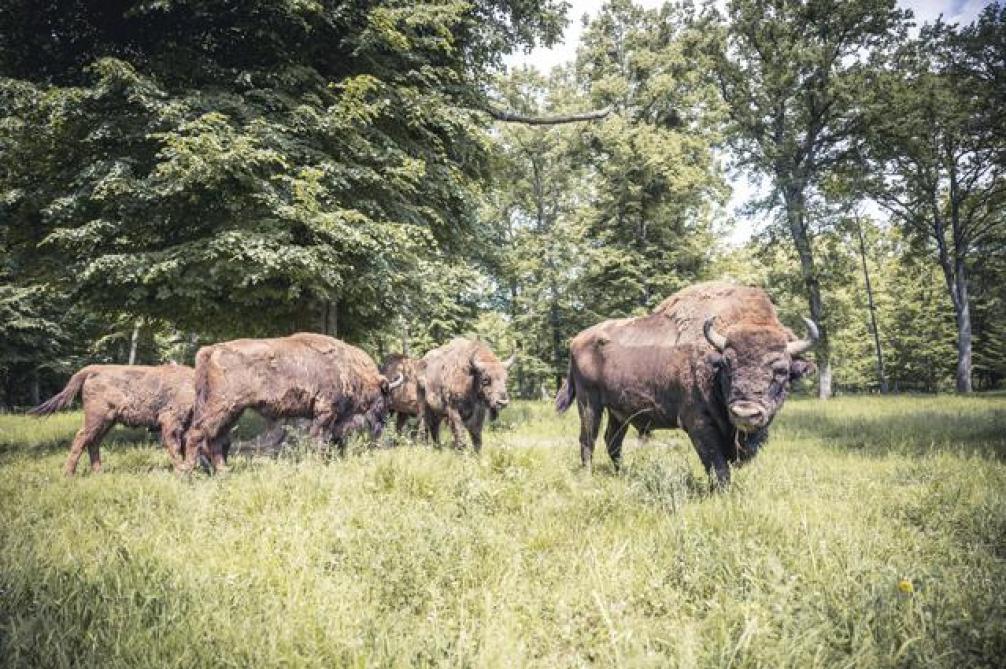 What is your title and what do you do exactly?
All ! (laugh). I'm an animal keeper. Together with my young colleague Tanguy Meier we take care of all maintenance of the place, repair of fences, monitoring of the animals (feeding + visit of the referring veterinarian), management of stocks, the guided tours (2 hours). ), keeping cash registers and park accounts! What is very interesting is that I do everything from A to Z.
And there are often births?
Oh yes. Often. And sometimes too much.
How is it going in this case? Do you have a maximum capacity?
Yes, we do not necessarily keep all the little ones. I stand to find places for them in other parks. And on the contrary, I can also be made to welcome other animals here. We make exchanges with European parks in the form of an Animal Exchange with classified ads, quite simply. But of course in a very framed way.
How does the visit actually take place?
Here it is a peninsula with the lake which extends to 3 sides, everything is fenced and the animals are there in semi-freedom. Half freedom means that they feed independently 70% of the year. Everything is done only on foot, to respect the peace and quiet of the animals. The track makes a loop of about 2.5 km, and there are several places observatories, which allow to see the animals at 5 m altitude. It's over the top! We rent binoculars for visitors. And above all, that way we do not bother them.
How to distribute the animals geographically?
In fact, it depends on their space requirements. We could, for example. put many more moose, but we refuse to do so to respect their living comfort. Here the well-being of the animal is fundamental. And we do not want to fall into the zoo system.
Are some animals dangerous?
Let's say that the aurochs and the bison are not necessarily very practical. You need to be very careful when feeding them in the winter. Never turn your back on an animal and always provide an emergency exit, this is the wisest thing to do. Without being familiar with my bison, we can say that they clearly identify the noise from my quad and approach the fence when I arrive. To them, I am synonymous with food.
An anecdote to tell us?
Oh yes ! 4 years ago, a tree fell on an outside fence and the female moose that was to give birth fled. So little stress anyway, but luckily, 48 hours later, walkers saw her near Vélovoie. Then it's gendarmerie, firefighters, prefecture, vet! Already to find it and then catch it. We hit her with a syringe and managed to get her back here. The birth went well, thank God!
Do you have children? If so, how do they view your job?
Yes, Baptiste is 23 years old and Margaux is 21. I have passed on my passion for animals to them. They are necessarily very happy to see that I am having fun in my job. Margaux is a really good rider, we also have that in common. But the good news is that we do not eat hay!
For all information: chemin du Gaty – 10220 Piney, www.pnr-foret-orient.fr – 03.25.43.38.88