Right in the heart of the golden triangle, on the 6th floor of a Haussmann building, 39 V in twelve years has become the address of Paris' rooftops. At the head of this place in life that is conducive to interruption, exchange and simple culinary pleasures, chef Frédéric Vardon, a star of the Michelin guide and successful restaurants, has only one motive: adherence to products. Portrait
---
It is on 39 avenue George V that Frédéric Vardon has resided for 12 years. It is at this address that every lunchtime and every evening he gathers lovers of good gastronomy in a warm and friendly atmosphere. Recently renovated by Raphaël Navot, the 39V cultivates a peaceful and welcoming atmosphere. "My wish was to have a timeless, feminine and ecological establishment, I wanted to create a living space intended for sharing. "For this it is a wealth of craftsmen and materials that have been used in this renovation" we would like to give the material an honor, we have solid wood, woolen fabrics sewn and painted by hand, c It was important for me to give a place where people like to meet. For for this chef, who grew up between Paris and Normandy, cooking is about love and sharing.
Cooking could have been obvious to Chef Vardon, whose parents were butchers and catering companies and a family of farmers, the young Frédéric dreamed of a career in the countryside, on farmland next to his cows. "I wanted to be a farmer, I am passionate about breeding, I love cows and above all I have great respect for farmers who are only there for us and to feed us. »
Eventually, this lover of the country decided to swap the fields with Ferrandi cooking school, where he learned cooking and cut his teeth with Alain Chapel in his three-star brigade in Mionnay, before joining teams ofAlain Ducasse as leader. "I worked for 4 chefs, the 4 took away my humility and respect for others, I was lucky because I only worked for good people. Honestly, I do not know if I have worked for great chefs, but I know I have worked for great men. »
Eighteen years after working togetherAlain Ducassecreates Frédéric Vardon Corfou, a French investment fund specializing in catering and gastronomy.
For the chef, who has lived at 39 V since 2010, cooking is above all a way to please, "it's fun and to share, no one cooks for you to annoy you"
In his kitchens, chef Vardon cultivates the simplicity of his dishes, which he mixes with great respect for seasonal "for me, the simplest kitchen is the hardest to make, we do not hide behind spices. Simple cooking depends on only one essential thing for us: the product. If it is of good quality, we have nothing to do but cook it well. "
If the trend in restaurant cooking today invites us to rethink the origin and durability of the products, Frédéric Vardon admits that he did not wait "for it to be fashionable" to make an effort in this direction "in my kitchens we have a composter , all our organic waste is composted.This is not new as I have been in charge of my kitchens, it is our responsibility, therefore we have never had fish names on the menu because we fish sustainably, we buy our fish according to what our fishermen have. »`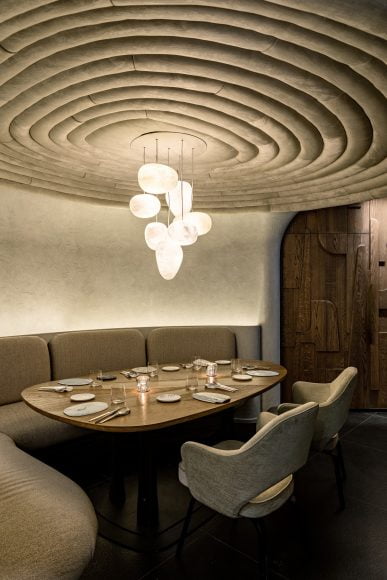 After 30 years of career, Frédéric Vardon aims to convey to the people he works with: "I am, for future great chefs, the generation that tells them the story that will give them anecdotes, solid bases, so that they express themselves, today, I try to pass on the baton ".
<< Læs også: Cookoon fornyer genren af ​​gastronomiske oplevelser på ultra-private steder >>>