How did the idea for PatchGuard come about?
The company is called PatchGuard in honor of my Australian Shepherd, patch. A few years ago we went on holiday with friends to Corsica. Unfortunately, I could not take my dog ​​anywhere or leave him alone. When we visited places, such as museums or churches, my husband was waiting outside with our dog. One evening we had a banquet and patch began to bark. I have some thoughts …
During our stay, I thought it would be a good idea to have his dog cared for for a few hours, just as we can do with children. So I started looking on the internet … and I could not find anything. This concept was nowhere to be found. Subsequently, I had the ambition to offer this service in the big cities.
Patch is the name of your doggie. Can you present it to us?
It's just my baby! [Rire.] Kids have always wanted an Australian Shepherd dog and I knew this breed was the right one for me. I like to run and he is a dynamic dog who needs to exert himself.
I discovered this by consulting classified ads. At the time, he was 9 months old. Its owners divorced and were forced to part with it. A friend who lived nearby went to meet him … and told me she knew them! She had attended their wedding a few years earlier.
Thanks to this stroke of luck, and as it inspired confidence, they gave up their dog. These people worked all day, so the animal was left alone for several hours in a row. They could not take care of him, so they dared to give him away so that he would be happy.
As soon as I can take her with me, I will. When I'm gone, he's waiting for me in front of the gate. While I'm talking to you, he's next to me! Today, patch is 4 years old and runs with me 3 times a week. This dog changed my life!
© Laetitia Lacote
On your website we can read the following sentence: "PatchGuard is the service that transforms your dog's life. Our questions are: How?
Dogs can now accompany us during vacations or short tourist excursions. In 2021, I took on my bill to the Cité de l'Automobile in Mulhouse. The owners could not visit it with their doggies, so they handed them in at PatchGuard. A real success!
The goal is for the dog to have as much joy as the human being by being looked after and playing with friends. Recently, I brought in a Golden Retriever and a Labrador who did not know each other at all. After an hour, they almost slept on top of each other!
I think it is very important for dogs to socialize, especially since the confinements are associated with the Covid-19 pandemic. Families have adopted 4-legged companions who may not have seen other animals during this period.
It is also a "revolution" for the owner …
Exactly ! I want to change the mentality of humans, of the 18 million dog owners. That Central Canine published a survey finding that a third of French people own a doggie; 94% of them consider him a full member of the family.
I will really try to put the dog back in the heart of the community. There is no reason why we can do many activities with the kids but not with our pets. With a dog day care, the owners finally have the opportunity to visit the places that interest them without any restrictions.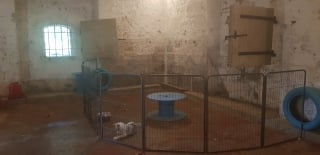 © Laetitia Lacote
Are there necessary conditions for admitting a dog?
The dog must be up to date with his vaccines, identified and have a collar or harness adapted to his morphology. Last year, I noticed that many animals did not have one. I think most of it is a lack of information. When customers come with a stuffed animal wearing a choke collar for example, I explain to them why it is not appropriate. To keep the dogs safe on walks, I bought a lasso leash. An accident can happen so quickly …
Then I do not accept rutting females. As for categorized dogs, I welcome them. I have already kept some. In addition, I have installed cages if I need to "isolate" an animal. Of course, dogs are never locked inside for several hours.
Specifically, how does dog care work?
The reservation can be made directly on the website for Patch-Guard.co.uk or on site. For information, we can legally keep 9 dogs. Then I write a "certificate of deposit". Then the owners say goodbye to their doggies and pick them up a few hours later. In France, we are not used to keeping dogs; 95% of my customers have never done that.
From the moment I take charge of an animal, I do not perform any other task concurrently. I go with him and let him sleep if he wants to. To stimulate it, I have provided toys, search mats, etc. Of course, I caress him a lot. I take care of him as if he were mine. I have already found myself sitting in the middle of 4 dogs and cuddling them!
In fact, I proposed a concept that did not exist; I was going to make a prototype. With my spouse, we bought a caravan on The good corner and we have made it dog friendly. The place is air conditioned in summer and heated in winter. To StrasbourgI had a modular build during the Christmas market.
On the price side, I ask 10 € for an hour of care.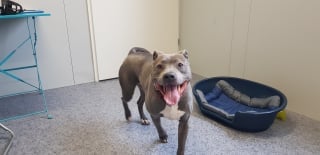 © Laetitia Lacote
What dates to remember this year?
I'm going back to Strasbourg from 11 July to 25 December 2022, more precisely at 4 rue de la Customs. I would like to enjoy a room of 60 m2close Batorama (a boat tour agency), the cathedral and the museums forbidden to our furry friends.
Other dates to remember: from July 11 to September 11, PatchGuard will be open to Campsite Sandaya Peneyralsclose Sarlat-la-Caneda. Customers have the opportunity to enjoy the surrounding places, such as the cave of Lascaux or even Padirac Chasm, as well as the swimming pool while their dog plays with his friends. It's the 1steh campsite in France to offer dog day care.
Finally, since June 27th and until September 18th, I offer my services to Besancon. I'm installed in Chamars towerbuilt in 1687 by Vauban. Dogs can even let the steam out into a frolic area opposite.
What is the profile of PatchGuard members?
It is above all the love of dogs that counts. You must want to keep them and take care of them. I still want the staff on PatchGuard be at least the holder of ACACED *, a diploma recognized by the state (myself and my husband have it). This proves the person's investment, and it is important to be aware that this is not a student job. To Besancona young woman who has completed her canine behaviourist training will join the team.
In 2021, I kept 200 dogs, which allowed me to learn a lot, especially about animal temperament and behavior. And then we have the opportunity to meet doggies that we are not used to seeing. Last year, for example, we held a Komondor!
* Proof of knowledge for pets of domestic animals.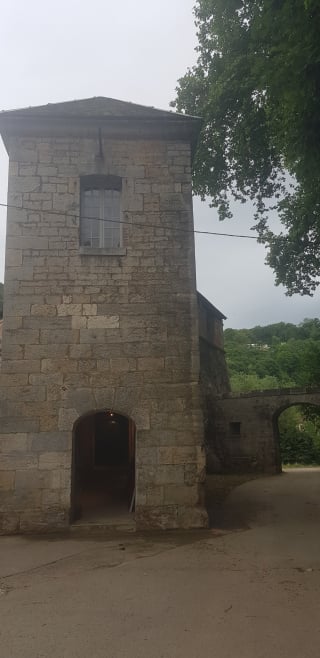 © Laetitia Lacote
Also read: A dog and her 8 puppies discovered in a worrying state get the happy ending they so deserve
Currently you are limited to the Alsace region. Do you plan to reach beyond and target the entire national territory?
In fact, because there are many places where dogs are not allowed. This year, PatchGuard was selected along with 7 other startups at the national level to participate inAlps Tourism Laboratory. So I hope to keep dogs while their masters ski on the slopes.
Another "evolution" would be to keep employees' doggies in industrial areas and provide a competitive advantage by finding staff.
Finally, I am looking for pilot sites that are interested in my concept that I want to develop under brand licensing.
I'm considering PatchGuard as an innovative startup in the tourism sector; I'm the first to say: You need to take care of the doggies so that their owners can visit different places. "I have called several projects but I never have any financial support, only the competition yago, which I thank. I am also the winner of the 2022 French Petfriendly Trophy and the 2021 Alsace Tourism Trophy.
I struggle and persevere because there is really a demand and a need in this field. Above all, I will one day do as many activities and excursions as possible with my patch.
To find this service in detail, click here.