Holidays are the best time to sightsee, relax and send postcards to friends and family. But what could be more boring than spending hours in bookstores and souvenir shops looking for the perfect postcard! Bet on originality and time saving with our selection of applications specially designed to send unique and original postcards!
With all these free mobile applications, you can compose your own holiday postcards from your personal photos thanks to simple and practical tools. Some offer more customization options, it's up to you to choose according to your needs.
Postagram
With Postagram, you can easily send beautiful personalized postcards to your loved ones, no matter where you are in the world. This is a service that allows you to create and send your own personalized postcards to friends and family within days. The process is very simple: just take a picture with your smartphone, select the recipient from your address book and write a message.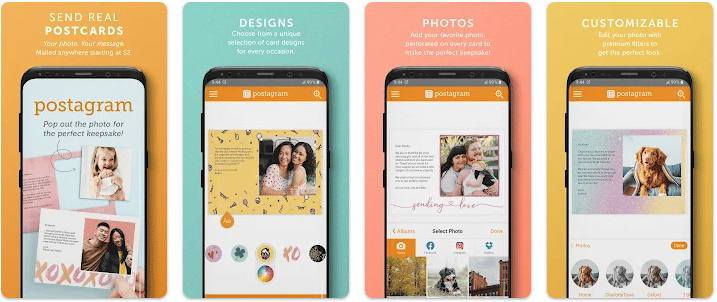 Editorial review: Postagram allows you to reconnect with the traditional way of sending holiday postcards in a unique and original way. Your friends and family will be thrilled to receive a physical postcard from you with a personal message written just for them. The app is free to download and use (pay only for sending) and is available for iPhone and Android smartphones. All you need is a few moments of free time and a few clicks and your postcard is on its way.
Fizzer
Fizzer is a service that allows users to create personalized postcards either from their smartphone or from the online service. The service is simple to use, thanks to an intuitive interface that guides users step by step. With Fizzer, users can add their own images and texts to create a unique postcard. The service also offers other printing and mailing options for personal documents.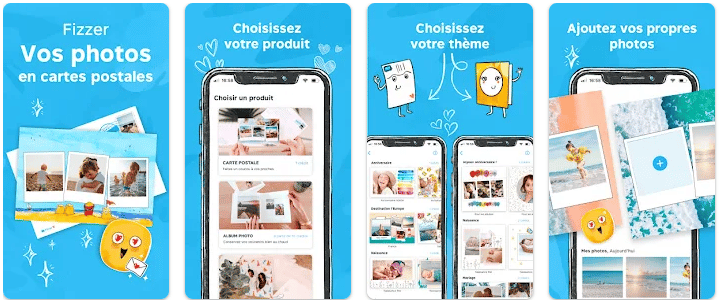 Editorial review: Fizzer is an ideal tool for anyone who wants to send a special message, whether for professional or personal purposes. In fact, the service also offers products other than the simple postcard, with specific finishes, which you can then order and send to your loved ones.
Simplycards
SimplyCards offers a convenient and easy way to create personalized postcards using your own holiday photos. With just a few clicks, you can choose from a variety of themes and designs, compose your message and send your postcard directly from your smartphone, tablet or PC. And there's no need to worry about finding a post office or postal address – SimplyCards takes care of everything for you.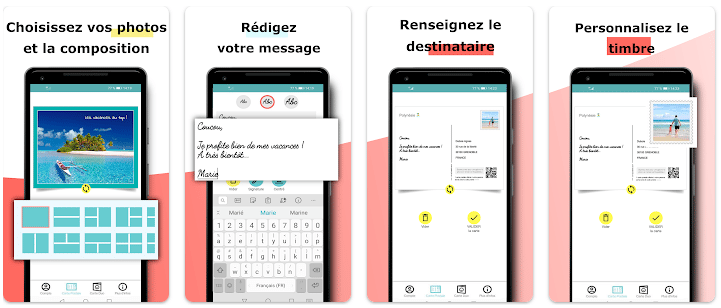 Editorial review: SimplyCards is one of the most popular apps for designing and sending postcards, and for good reason. In fact, the interface translated into French is extremely intuitive and the prices remain very advantageous. You do the creation and the service takes care of the rest: printing and sending.
Sky paper
Skypaper is a website and mobile application that allows users to create and send personalized postcards. Compared to the competition, Skypaper's strength is its large catalog of modern and up-to-date templates and designs that help them when they lack inspiration or don't feel up to it.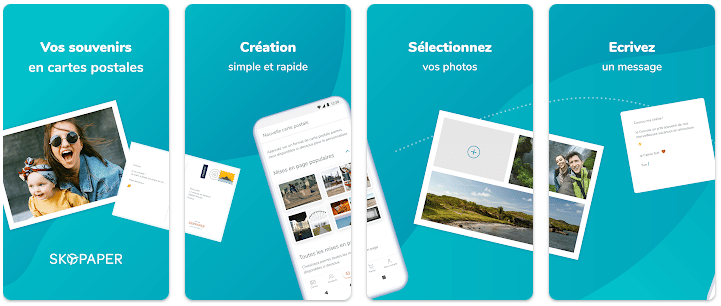 Editorial review: Without lying to each other, most traditional postcards of landscapes or tourist spots from your resort always end up in the trash. With Skypaper, your loved ones can receive a souvenir from your holiday and store it in a photo album or display it on a photo holder.
Youpix
Youpix is ​​an original service that allows you to create personalized postcards from your own photos and texts. With a wide range of templates and designs, you can create a unique postcard for any occasion: holiday postcard, announcement, invitation, greeting card, birthday, anniversary, congratulations, etc. The process is simple: just choose your images, add your text and customize it with stickers, frames and special layouts. Your postcard will then be printed and sent to the recipient by La Poste services.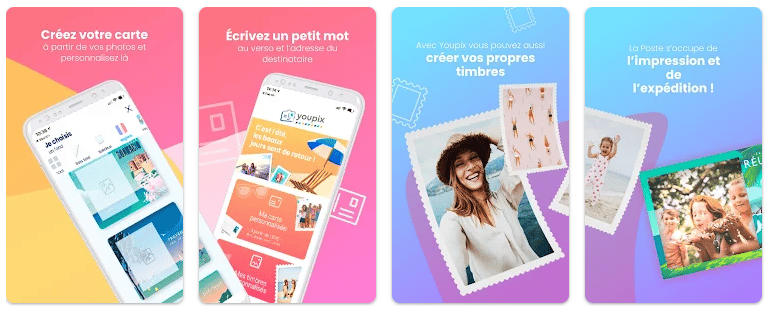 Editorial review: The little extra thing about Youpix is ​​the possibility to create stamps with your own photos, which will be stuck on your cards, pushing the personalization a little further than its competitors. The user interface is pleasant and well thought out, and we enjoy composing our own postcards.