This 3rd edition of the Megève Nature Trail, true to its fame, ticked all the boxes: sportsmanship, coziness, accessibility and originality!
Trail lovers were there this weekend to experience sporting feats on the peaks of Megève and share their passion for the mountains!
Results Megève Nature Trail 2022 HERE
In total, 6 races followed very closely and gathered runners from different walks of life: Running enthusiasts on vacation, local athletes (Jérémie Gachet), seeds of champions (150 children aged 5 to 12 for the Bambini race), stars of Ultra and sports (Mathieu Blanchard, Tony Moulay…), curious people who want to discover the adrenaline of bib, solo, with friends or with family….
But all ardent supporters of the event, which for three years has brought the village of Megève together.
Just over 1,000 participantseveryone engaged according to their wishes, their resources, their sporting goals found joy on courses composed and accessible for all levels: 8 km / 16 km / 30 km / 43 km.
The special feature of the Megève Nature Trail is being able to combine the distances between Saturday and Sunday race of 30 km (La Cime). Some experienced runners, like Mathieu Blanchard, from the Salomon team, covered 74 km (43 km + 31 km).
The races for children (children Bambini) in full expansion! The latter, increasing every year (100 in 2021, 150 in 2022), ignited and animated the streets of the village with their sprints to the cheers of all!
An event that is ideally placed in a UTMB® preparation
L'Aiguille, a 43 km and 2680 m D+
In 2021, the Club des Sports de Megève offered seasoned trail runners a new high-flying technical and sporting event, with a cloud running race: "l'Aiguille". This 43 km trail runs close to the most beautiful Megève peaks and includes Megève in the summer's "place to be" races and the must-see running events!
Bet successful and raised this year. We were able to admire a beautiful starting line of well-known athletes who came to fight on the Megève trails and perfect their preparation for the big ultras at the end of the summer.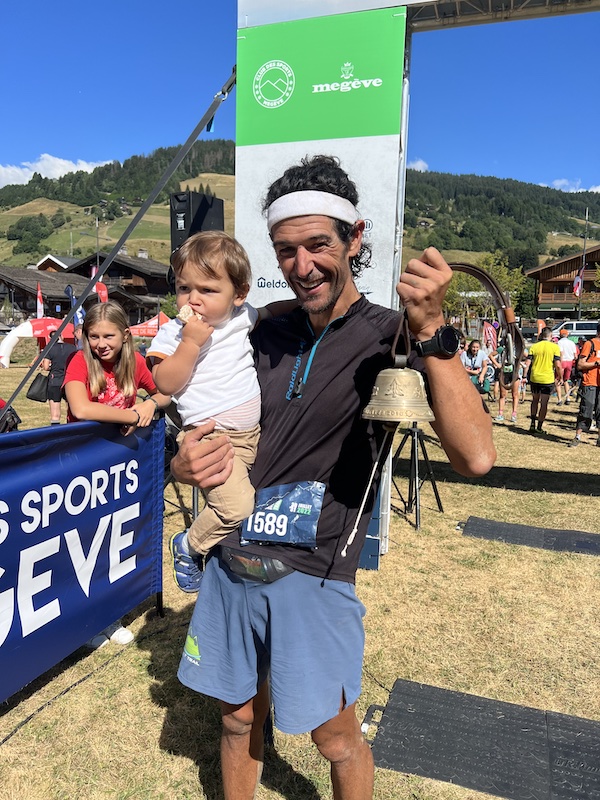 In terms of results, we will remember a great victory for Hugo Altmeyer, the 30-year-old Drôme from the Scott Running team who literally flew over the race from the start! The winner of the last Passerelles track 3 weeks ago confirms his great physical form over this distance and offers himself a victory in 4 hours 6 minutes and 20 seconds.
"I'm preparing for the OCC (56 km from UTMB) which takes place in 4 weeks. I had a good time there, it's a race at altitude with a great technical course that allows you to hone your address. Especially with this descent from Mont Joly, ultra steep, technical which does not allow deviations. It's a great race! I love running here, I come often.
A second place won by a triathlon legend, Tony Moulay! With several WC podiums in his discipline, the young 46-year-old pensioner shows a promising transition to trail running, in 4h12min 28sec. He also came to this Megève Nature Trail for a preparatory race for his participation in the UTMB.
"It is a very fast and powerful track. It's been a long time since I ran with this intensity threshold, I had trouble hanging onto Hugo! The very steep descents feel good in the thighs! A rhythmic race which gives me the opportunity to make a good effort in my preparation for UTMB."
Among the women, it is the performance in 05:05:36 by Géraldine Prost, Bisontine and career soldier to be remembered, well ahead of the other woman, Australian Shiri Leventhal in 05:44:31 and Emma Hogben (English) in 06:03:02. Just back from injury, she treats herself to one nice 15th place in the final draw out of 205 participants.
La Yaute, 74 km in 2 days on routes similar to the UTMB®
An Ultra star and Kho Lanta contestant, Mathieu Blanchard, overall winner of La Yaute (74 km).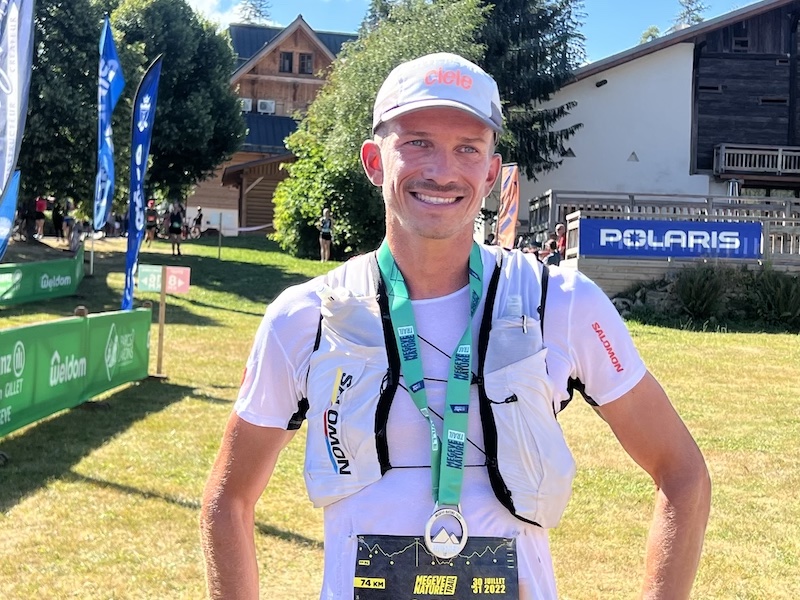 The trailer that rocked the UTMB 2021 by creating a surprise with a third place felt very comfortable on the Megève trails. Since the beginning of the year, he has been working on a drastic preparation to break his record at UTMB. For him, the Megève Nature Trail is the ideal format to achieve his goals! The champion chose to combine the 43 km Aiguille with a 3rd time of 04:14:22 and this Sunday the 30 km Cime race. He crossed the finish line in the lead with a time of 02:24:35. And thus won Yaute (74 km) in 06:38:57. Matthew Blanchard: "I'm training a lot more this year, this race is perfect for me to refine my fitness. I felt really comfortable on this technical altitude course! At the end of the weekend I will have accumulated 250 km in a week of preparation! The advantage of this event is to be able to chain several races and kilometers. All the lights are green to increase my performance. Simply mine this Sunday's race was more complex, I had heavy legs from the day before, I had to hang on to overtake Thibault Jean and make the difference in the final descent. I had really come to look for this self-transcendence here in Megève. This great race reassured me about my future goals! It really is a great experience here!"
Among the ladies, the locals Morgan Cretton winning in just under 9 hours over the two days and winning the race each day, ahead of Manon Fontanel and Marine Feige combined.
The second race on Saturday 30 July,
The Dooble (8 km / 16 km), also offered a great sporting moment, characterized by a neck and neck duel over the 16 km of Victor Olivier, outsider last year and winner this year in 01:25:16 ahead of Edouard Loison in 01:26:09 and Célestin Creuzet.
Sophie Daly wins the ladies
In the 8 km, the victory goes to Romain Champenois and Lola Bugeaud (youngest and 9th scratch)
Sunday's race – La Cime (30 km)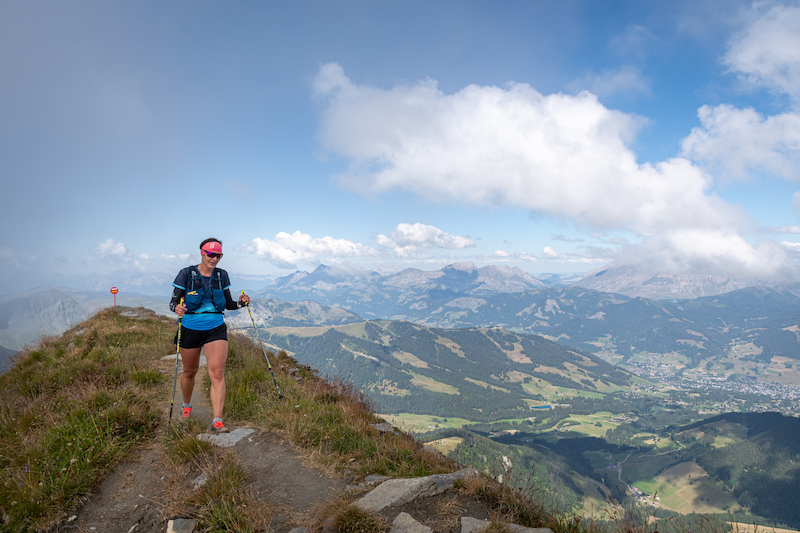 The finish line was crossed by Mathieu Blanchard in the lead. This one is entered in the overall test of 74 km (La Yaute), the victory in the test of 30 km goes to Thibault Jean of Team North Face with a time of 02:25:46, almost 1 minute behind Mathieu, followed by Ludvik Fernandez on the 3rd step of the podium in 02:32:42.
The first female Raquel Rivas, of Spanish origin based in Chamonix, finished in 03:15:18 and scored 34th place in the final scratch out of 286 starters. The young Marine Gachet of the Socquet Sport team climbs the second step of the podium with a time of 03:21:46
Fred Bousseau and press release – photos G. Borga and F. Bousseau